Scientific Name
Python molurus bivittatus Kuhl, 1820 (ITIS)
Date of U.S. Introduction
Means of Introduction
Imported to the U.S. for the pet trade; wild populations became established from animals that escaped or were intentionally released (Harvey et al. 2016)
Impact
Preys on native species, some of which are endangered (such as the Key Largo woodrat, Neotoma floridana smalli); may also compete with threatened native species, such as the indigo snake (Drymarchon couperi) (Harvey et al. 2016)
Current U.S. Distribution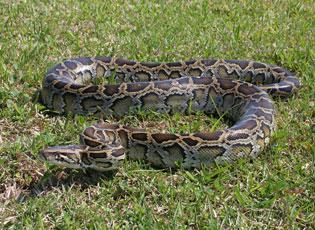 Spotlights
Feb 8, 2023

DOI. USGS. Wetland and Aquatic Research Center.

The U.S. Geological Survey has released a comprehensive synthesis of Burmese python science, showcasing results from decades of USGS-funded research on python biology and potential control tools. The giant constrictor now represents one of the most challenging invasive species management issues worldwide.

Feb 25, 2021

Florida Fish and Wildlife Conservation Commission.

At its February 2021 meeting, the Florida Fish and Wildlife Conservation Commission (FWC) approved staff recommendations to create new rules to address the importation, breeding and possession of high-risk invasive reptiles. The approved rule changes to Chapter 68-5, F.A.C. specifically address Burmese pythons, Argentine black and white tegus, green iguanas and 13 other high-risk nonnative snakes and lizards that pose a threat to Florida's ecology, economy, and human health and safety. For more information, see New Rules for Invasive Nonnative Reptiles.

Florida Fish and Wildlife Conservation Commission.

Python Patrol is a no-cost training program that aims to create a network of trained individuals throughout south Florida who know how to identify Burmese pythons, report sightings, and in some cases, capture and humanely kill the snakes. Python Patrol training is offered throughout south and southwest Florida.
Distribution / Maps / Survey Status
University of Georgia. Center for Invasive Species and Ecosystem Health.

Provides state, county, point and GIS data. Maps can be downloaded and shared.
Federally Regulated
DOI. FWS. Fish and Aquatic Conservation.

Includes species listed as injurious wildlife under the Federal Lacey Act (18 USC 42), which makes it illegal to import injurious wildlife into the U.S. or transport between the listed jurisdictions in the shipment clause (the continental U.S., the District of Columbia, Hawaii, the Commonwealth of Puerto Rico, and any possession of the U.S.) without a permit. An injurious wildlife listing would not prohibit intrastate transport or possession of that species within a State where those activities are not prohibited by the State. Preventing the introduction of new harmful species is the only way to fully avoid impacts of injurious species on local, regional, and national economies and infrastructure, and on the natural resources of the U.S.

Injurious wildlife are wild mammals, wild birds, amphibians, reptiles, fishes, crustaceans, mollusks and their offspring or eggs that are injurious to the interests of human beings, agriculture, horticulture, forestry, wildlife or wildlife resources of the U.S. Plants and organisms other than those stated above cannot be listed as injurious wildlife. For more information, see What Are Injurious Wildlife: A Summary of the Injurious Provisions of the Lacey Act and Summary of Species Currently Listed as Injurious Wildlife.
Selected Resources
The section below contains highly relevant resources for this species, organized by source.
Partnership
Federal Government
State and Local Government

Mar 2012

Collier Soil and Water Conservation District (Florida).

Florida Fish and Wildlife Conservation Commission.

South Florida Water Management District.

The South Florida Water Management District Governing Board is taking aggressive action to protect the Everglades and eliminate invasive pythons from its public lands. Starting in March 2017, the Python Elimination Program incentivizes a limited number of public-spirited individuals to humanely euthanize these destructive snakes, which have become an apex predator in the Everglades. The program provides access to python removal agents on designated SFWMD lands in Miami-Dade, Broward, Collier, Hendry and Palm Beach counties.
Academic

Mississippi State University.

University of Florida. Institute of Food and Agricultural Sciences Extension.

Electronic Data Information Source - publication resources

University of Florida. Florida Museum of Natural History.
Professional