Learn about the Federal Government's Response to invasive species issues and how Federal activities regarding invasive species are coordinated.
---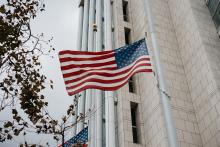 On February 3, 1999, Executive Order 13112 was signed by President William Clinton establishing the National Invasive Species Council (Council). The Council is an inter-Departmental body that helps to coordinate and ensure complementary, cost-effective Federal activities regarding invasive species. The overarching duty of the Council is to provide the high-level vision and leadership necessary to sustain and expand Federal efforts to safeguard the interests of the U.S. by preventing, eradicating, and controlling invasive species, as well as restoring ecosystems and other assets impacted by invasive species.
View related information: Executive Orders for Invasive Species
The Council manages the Invasive Species Advisory Committee (ISAC), including facilitating nomination processes, convening meetings, and soliciting advice relevant to the Council's priorities. Together with ISAC, stakeholders, concerned members of the public, and member departments, the Council formulated an action plan for the nation. The Council issued the first National Invasive Species Management Plan early in 2001 to provide an overall blueprint for Federal action. Currently, the Annual Work Plan sets priority activities that will guide the Council's activities over the coming year.
ISAC Status (as of Jan 10, 2023): The newly reconstituted ISAC members were appointed Dec 23, 2022. First virtual meeting for new ISAC members is planned for Mar 6-8, 2023. After having been active for nearly two decades, the Trump administration defunded and disbanded ISAC in 2019. President Biden reestablished ISAC on Sep 30, 2021, see Section 1(o) in Executive Order on Continuance or Reestablishment of Certain Federal Advisory Committees and Amendments to Other Executive Orders
Federal Invasive Species Task Forces, Committees, and Councils
Overview of National Federal Interagency Coordinating Groups [PDF, 249 KB]
Aug 19, 2021
National Invasive Species Council.
Aquatic Nuisance Species Task Force
Develops and executes programs to limit the introduction and dispersal of Aquatic Nuisance Species (ANS).
Federal Interagency Committee for the Management of Noxious and Exotic Weeds
Coordinates information regarding the identification and extent of invasive plants in the United States.
Federal Integrated Pest Management Coordinating Committee
Provides leadership, management, and coordination on pest management issues, including Integrated Pest Management (IPM).
Federal Interagency Committee on Invasive Terrestrial Animals and Pathogens
Coordinates the sharing of technical information for program planning and the management of invasive species.
National Invasive Species Council
Provides high-level vision and leadership necessary for the prevention, eradication, and control of invasive species in the United States.
Technical Advisory Group for Biological Control Agents of Weeds
Reviews petitions for biological control of weeds and provides an exchange of views, information and advice to researchers.