Scientific Name
Rhamnus cathartica L. (ITIS)
Common Name
Common buckthorn, European buckthorn, Hart's thorn, European waythorn
Date of U.S. Introduction
Current U.S. Distribution
Northeastern, Midwestern, and Western U.S.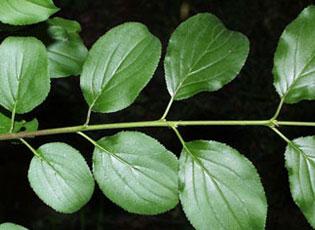 Spotlights
Feb 4, 2022

Pennsylvania Department of Agriculture.

The Pennsylvania Department of Agriculture has added ravenna grass, glossy buckthorn and common buckthorn to a list of noxious weeds — plants that cannot be legally sold or cultivated in the state. The non-native plants spread aggressively into wooded areas and fields, crowding out beneficial plants and disrupting native ecosystems. The ban on sale and cultivation will take effect April 5, 2022 with enforcement phased in over the next year.

Corteva Agriscience. TechLine Invasive Plant News.

Distinguishing between non-native and native buckthorn is important so that management efforts can be targeted appropriately. This article desribes and separates the two invasive buckthorns from native alderleaf buckthorn.
Distribution / Maps / Survey Status
University of Georgia. Center for Invasive Species and Ecosystem Health.

Provides state, county, point and GIS data. Maps can be downloaded and shared.
Selected Resources
The section below contains highly relevant resources for this species, organized by source.
Council or Task Force

Jan 2014

Alberta Invasive Species Council (Canada).

See also: Fact Sheets for more information about individual invasive species, including those listed as "Prohibited Noxious" and "Noxious" under the Alberta Weed Control Act

Ohio Invasive Plants Council.
Partnership
Federal Government
State and Local Government
Academic
Professional

Invasive Species Centre (Ontario).