Common Name
Thousand cankers black walnut disease (TCD)
Native To
Disease was first detected in the Western U.S.; the disease vector, the walnut twig beetle, is native to the southwestern U.S. and Mexico (Utley et al. 2013)
Date of U.S. Introduction
Impact
Fungal disease of walnut trees (Juglans spp.), particularly the black walnut (Juglans nigra), that is usually lethal within a few years; disease is transmitted by the walnut twig beetle, Pityophthorus juglandis (Tisserat et al. 2009)
Current U.S. Distribution
Widespread throughout the Western U.S.; first detected in the Eastern U.S. in Aug 2010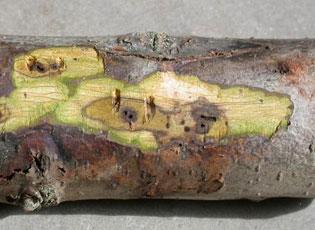 Spotlights
Sep 5, 2019

USDA. FS. Southern Research Station. CompassLive.

In recent decades, thousand cankers disease has become a concern for walnut growers and hardwood forest managers in the United States. A variety of measures have been investigated or developed to counter the disease. A study led by USDA Forest Service research entomologist Albert Mayfield and former University of Tennessee graduate student Jackson Audley looked at one measure: quarantine treatments. In an effort to stop the spread of the walnut twig beetle, certain states have prohibited the movement of regulated articles, including kiln-dried walnut lumber that still has its bark. The scientists investigated the risk of that type of lumber becoming colonized during movement to evaluate whether regulation of that product is necessary. Their paper was published in the Journal of Economic Entomology.
Distribution / Maps / Survey Status
University of Georgia. Center for Invasive Species and Ecosystem Health.

Provides state, county, point and GIS data. Maps can be downloaded and shared.
Videos
Google. YouTube; University of Massachusetts - Amherst. 

Google. YouTube; University of Tennessee Extension (Knoxville County).
Selected Resources
The section below contains highly relevant resources for this species, organized by source.
Partnership
Federal Government

USDA. FS. Northern Research Station.

USDA. Animal and Plant Health Inspection Service.
State and Local Government
Academic
Professional

Aug 2009

Plant Management Network. Plant Health Progress.