Scientific Name
Calonectria pseudonaviculata (Crous, J.Z. Groenew. & C.F. Hill) L. Lombard, M.J. Wingf. & Crous. (Lombard et al. 2010)
Common Name
Boxwood blight, box blight, Buxus blight
Synonym
Cylindrocladium pseudonaviculatum Crous, J.Z. Groenew. & C.F. Hill, 2002, Cylindrocladium buxicola Henricot 2002
Date of U.S. Introduction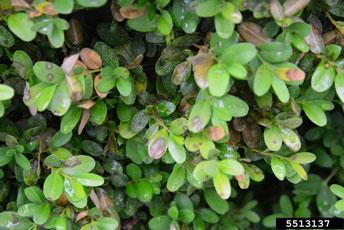 Selected Resources
The section below contains highly relevant resources for this species, organized by source.
Council or Task Force

Virginia Tech; Virginia State University. Virginia Cooperative Extension.

The Virginia Boxwood Blight Task Force provides leadership in safeguarding and protecting the ornamental horticulture industry, historical gardens, and landscape plantings from boxwood blight.
Partnership

Horticultural Research Institute.
Federal Government

May 2016

USDA. National Institute of Food and Agriculture.
State and Local Government
Academic