Pathways
Pathways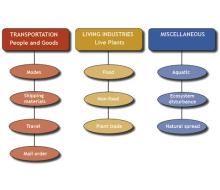 Pathways are the means and routes by which invasive species are introduced into new environments. Pathways can generally be classified as either natural or man-made.
Natural pathways (i.e., those not aided by humans) include wind, currents (including marine debris), and other forms of natural dispersal that can bring species to a new habitat.
Man-made (or human-mediated) pathways are those which are created or enhanced by human activity. These are characteristically of two types:
Intentional, which is the result of a deliberate movement of a species by humans outside of its natural range. Examples include the introduction of biological control organisms or the movement of species for the horticultural or pet trade. Intentional introductions as a whole should not be labeled as either good or bad. A specific intentional pathway can only be judged by the positive or negative impact of the specific organisms that are moving along that means.
Unintentional, which is the inadvertent movement of species as a byproduct of some other human activity. Examples of unintentional pathways are ballast water discharge (e.g. red-tide organisms), pests and diseases in imported plants, firewood, and other agricultural products (e.g. fire ants), the movement of recreational watercraft (e.g. zebra mussels), and the international movement of people (e.g. pathogens). In these and countless other unintentional pathways, the movement of non-native species is an indirect byproduct of human activities.
For our purposes, the term "vector" is viewed as a biological pathway for a disease or parasite (i.e. an organism that transmits pathogens to various hosts) and is not completely synonymous with the much broader definition of a pathway. The Asian citrus psyllid is an example of a vector of the serious citrus greening disease or Huanglongbing.
Examples of ways invasive species spread include:
---
Selected Resources
The section below contains highly relevant resources for this subject, organized by source.
Council or Task Force

Georgia Invasive Species Task Force.

Washington State Recreation and Conservation Office. Washington Invasive Species Council.
Partnership
International Government

National Biodiversity Data Centre (Ireland).

With increased movement of people and goods around the world, there is an increased introduction of alien (non-native) species to new areas where they can become invasive. Key to this, is knowing how the invasive species are likely to be introduced and acting to prevent further introductions through those pathways. The purpose Pathway Action Plans is to raise public awareness as well as to prevent unintentional introductions by minimizing the contamination of goods, commodities, vehicles and equipment by IAS, and ensuring appropriate checks at EU Union borders.
State and Local Government

Alaska Department of Fish and Game.
Academic

North Carolina State University. Cooperative Extension.