Firewood
Firewood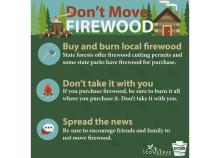 Invasive pests can burrow into trees that then become firewood. When the firewood moves, the pests move with it as a pathway—without the transporter knowing—to uninfested areas. Untreated firewood can also harbor other types of insects and diseases that can greatly harm trees and shrubs. Remember to source your firewood locally! Most invasive insects only can travel a few miles on their own. but can be moved hundreds of miles in or on firewood.
Definitions of local firewood vary as "local" firewood is not a defined or consistent term. Firewood regulations throughout the country vary; state regulations are most often either defined as a set distance (typically 10, 25, or 50 miles) or as a specified geographical area defined by a county, state, or regulated area. Unfortunately figuring out where to buy firewood, varies greatly by region. Some state Departments of Forestry or Agriculture maintain an online directory of approved dealers. Twelve states list their vendors on Firewood Scout, a cooperative firewood vendor locating website. Another excellent resource available is Find Firewood Near You which is a community-focused project created by avid campers that gives folks access to a user-generated firewood map which shows reliable places to find firewood. Unfortunately, some states and areas have no online information.
Learn more about What You Can Do and How They Spread to help stop them from USDA's Animal and Plant Health Inspection Service Hungry Pests outreach campaign.
Selected Resources
The section below contains highly relevant resources for this subject, organized by source.
Council or Task Force

Washington State Recreation and Conservation Office. Washington Invasive Species Council.

Oregon Invasive Species Council.

In 2010, Oregon, Washington, and Idaho launched a tri-state outreach campaign to inform the public about the dangers of moving firewood to Pacific Northwest forests. The campaign, funded by the United States Department of Agriculture, closely followed the messaging of the national Don't Move Firewood campaign, which recommends buy firewood that was cut locally, preferably within the county or region of where it will be burned. The tri-state outreach campaign, Buy It Where You Burn It, encouraged good campfire practices with branded posters, billboards, and playing cards located at rest stops and state parks.
Partnership
Federal Government

USDA. FS. Northern Research Station.
State and Local Government

North Carolina Forest Service.
Academic

Mar 2016

Oregon State University. Extension Service.

The purpose of this publication is to alert Oregonians to the risk of introducing or dispersing invasive forest pests through firewood. Although Oregon law restricts the import of untreated commercial firewood, there still is a risk that people moving firewood will introduce or spread pests. Interstate transport of firewood by people is one of the most important avenues for dispersal of many invasive forest pests. See also: Forest Health, Insects and Disease for more publications.

North Carolina State University. Cooperative Extension.

Michigan State University.