Firewood
Firewood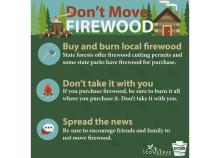 Invasive pests can burrow into trees that then become firewood. When the firewood moves, the pests move with it as a pathway—without the transporter knowing—to uninfested areas. Untreated firewood can also harbor other types of insects and diseases that can greatly harm trees and shrubs. Remember to source your firewood locally! Most invasive insects only can travel a few miles on their own. but can be moved hundreds of miles in or on firewood.
Learn more about What You Can Do and How They Spread to help stop them from USDA's Animal and Plant Health Inspection Service Hungry Pests outreach campaign.
Spotlights
Feb 2021

Cornell University. New York Invasive Species Research Institute.

A cozy campfire for summer days, a warm fireplace for winter evenings– the use of firewood is an "established cultural norm". However, moving firewood from place to place can have devastating consequences, as it can spread forest pests that decimate forests to collectively cost an estimated $4.2 – $14.4 billion per year. In order to better address the problem of people moving firewood and vectoring forest pests, Solano and colleagues examined trends and gaps in the existing literature on firewood and human-mediated forest pest movement in North America. The existing literature demonstrates the risk of firewood movement, but fails to address the level of awareness the public has on such risks, or the level of effectiveness of firewood regulations to prevent forest pest spread.

The Don't Move Firewood campaign is an outreach partnership managed by The Nature Conservancy. The overarching goal of the campaign is to protect trees and forests all across North America from invasive insects and diseases that can travel in or on contaminated firewood. The central tenet of the Don't Move Firewood campaign is that everyone has a role to play in slowing the spread of invasive tree killing insects and diseases, through making better informed firewood choices. For more information on how you can do your part, please see Frequently Asked Questions.

See also:

Emerald Ash Borer Awareness Weed Toolkit -- During Emerald Ash Borer Awareness Week (May 22-28, 2022) everyone is encouraged to take a few minutes to learn about the signs and symptoms of emerald ash borer infestation on ash trees so that the infestations can be better managed by local tree professionals and foresters.
Firewood Month Toolkit -- During October (Firewood Month), reduce firewood movement to slow the spread of forest pests and diseases via the firewood pathway.

USDA. Animal and Plant and Health Inspection Service.

Whether used to heat your home or build a campfire, firewood is a must-have item for millions of Americans. However, firewood also presents a very real threat to the Nation's forests. Invasive species including the Asian longhorned beetle (ALB), the emerald ash borer (EAB), and gypsy moth can be spread into new areas of the country on firewood.
Selected Resources
The section below contains highly relevant resources for this subject, organized by source.
Council or Task Force

Washington State Recreation and Conservation Office. Washington Invasive Species Council.

Oregon Invasive Species Council.

In 2010, Oregon, Washington, and Idaho launched a tri-state outreach campaign to inform the public about the dangers of moving firewood to Pacific Northwest forests. The campaign, funded by the United States Department of Agriculture, closely followed the messaging of the national Don't Move Firewood campaign, which recommends buy firewood that was cut locally, preferably within the county or region of where it will be burned. The tri-state outreach campaign, Buy It Where You Burn It, encouraged good campfire practices with branded posters, billboards, and playing cards located at rest stops and state parks.
Partnership
State and Local Government

North Carolina Forest Service.
Academic

Mar 2016

Oregon State University. Extension Service.

The purpose of this publication is to alert Oregonians to the risk of introducing or dispersing invasive forest pests through firewood. Although Oregon law restricts the import of untreated commercial firewood, there still is a risk that people moving firewood will introduce or spread pests. Interstate transport of firewood by people is one of the most important avenues for dispersal of many invasive forest pests. See also: Forest Health, Insects and Disease for more publications.

North Carolina State University. Cooperative Extension.

Michigan State University.