Scientific Name
Pistia stratiotes L. Royle (ITIS)
Common Name
Water lettuce, tropical duckweed
Date of U.S. Introduction
First described in Florida in 1765; experts disagree as to whether water lettuce is native to the U.S. (Ramey 2001)
Means of Introduction
Unknown (possibly native to the U.S., or it may have arrived in ballast water) (Ramey 2001)
Impact
Grows into dense mats that clog waterways (Ramey 2001)
Current U.S. Distribution
Southern U.S., Eastern U.S.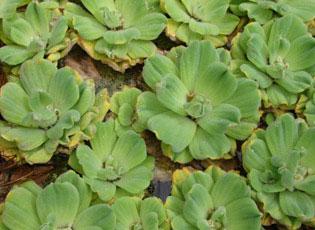 Distribution / Maps / Survey Status
University of Georgia. Center for Invasive Species and Ecosystem Health.

Provides state, county, point and GIS data. Maps can be downloaded and shared.

DOI. USGS. Wetland and Aquatic Research Center.

Provides detailed collection information as well as animated map.
Videos
Google. YouTube; University of Florida. IFAS. Center for Aquatic and Invasive Plants.
Selected Resources
The section below contains highly relevant resources for this species, organized by source.
Partnership
Federal Government

DOI. USGS. Wetland and Aquatic Research Center.

Provides distribution maps and collection information (State and County).

USDA. NRCS. National Plant Data Center.

USDA. ARS. National Genetic Resources Program. GRIN-Global.
International Government

New South Wales Department of Primary Industries (Australia).

Business Queensland (Australia).

Australian Centre for International Agricultural Research. PestNet.
State and Local Government

Pennsylvania Department of Conservation and Natural Resources.

See also: Invasive Plant Fact Sheets for plant species (trees, shrubs, vines, herbs and aquatic plants) that have impacted the state's natural lands

Wisconsin Department of Natural Resources.

Florida Fish and Wildlife Conservation Commission.
Academic
Professional

2022

North American Invasive Species Management Association.
Citations
Dray, F.A., C.R. Thompson, D.H Habeck, J.K. Balciunas, and T.D. Center. 1988. A survey of the fauna associated with Pistia stratiotes L. (waterlettuce) in Florida (Technical Report A-88-6). Jacksonville, Fla.: U.S. Army Corps of Engineers Aquatic Plant Control Research Program.

Integrated Taxonomic Information System. Pistia stratiotes. [Accessed Sep 28, 2023].

Ramey, V. 2001. Water lettuce. University of Florida, IFAS Extension, Center for Aquatic and Invasive Plants.