Scientific Name
Potamogeton crispus L. (ITIS)
Common Name
Curly pondweed, Curly-leaf pondweed
Date of U.S. Introduction
Impact
Forms dense mats that inhibit growth of native species and impede recreational activities (Catling and Dobson 1985)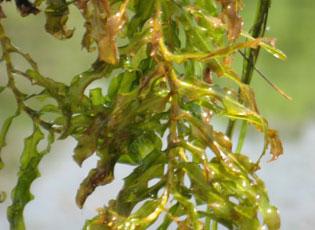 Distribution / Maps / Survey Status
University of Georgia. Center for Invasive Species and Ecosystem Health.

DOI. USGS. Wetland and Aquatic Research Center.

Provides detailed collection information as well as animated map.
Selected Resources
The section below contains highly relevant resources for this species, organized by source.
Council or Task Force

Apr 2016

Alberta Invasive Species Council (Canada).

See also: Fact Sheets for more information about individual invasive species, including those listed as "Prohibited Noxious" and "Noxious" under the Alberta Weed Control Act

Ohio Invasive Plants Council.
Partnership
Federal Government
State and Local Government
Academic
Professional

Lake George Association (New York).