Scientific Name
Hypophthalmichthys molitrix (Valenciennes in Cuvier and Valenciennes, 1844) (ITIS)
Date of U.S. Introduction
Means of Introduction
Imported for aquaculture and for phytoplankton control (NAS Database)
Impact
Has the potential to cause enormous damage to native species because it feeds on plankton required by larval fish and native mussels. Is a potential competitor with adults of some native fishes, for instance, gizzard shad, that also rely on plankton for food (NAS Database)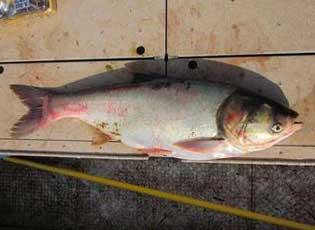 Distribution / Maps / Survey Status
DOI. USGS. Wetland and Aquatic Research Center.

Provides detailed collection information as well as animated map.
Federally Regulated
DOI. FWS. Fish and Aquatic Conservation.

Includes species listed as injurious wildlife under the Federal Lacey Act (18 USC 42), which makes it illegal to import injurious wildlife into the U.S. or transport between the listed jurisdictions in the shipment clause (the continental U.S., the District of Columbia, Hawaii, the Commonwealth of Puerto Rico, and any possession of the U.S.) without a permit. An injurious wildlife listing would not prohibit intrastate transport or possession of that species within a State where those activities are not prohibited by the State. Preventing the introduction of new harmful species is the only way to fully avoid impacts of injurious species on local, regional, and national economies and infrastructure, and on the natural resources of the U.S.

Injurious wildlife are wild mammals, wild birds, amphibians, reptiles, fishes, crustaceans, mollusks and their offspring or eggs that are injurious to the interests of human beings, agriculture, horticulture, forestry, wildlife or wildlife resources of the U.S. Plants and organisms other than those stated above cannot be listed as injurious wildlife. For more information, see What Are Injurious Wildlife: A Summary of the Injurious Provisions of the Lacey Act and Summary of Species Currently Listed as Injurious Wildlife.
Videos
Jan 2019

Google. YouTube. PBS NewsHour.

Invasive Carp Regional Coordinating Committee.
Selected Resources
The section below contains highly relevant resources for this species, organized by source.
Council or Task Force

Feb 2018

Alberta Invasive Species Council (Canada).

See also: Fact Sheets for more information about individual invasive species, including those listed as "Prohibited Noxious" and "Noxious" under the Alberta Weed Control Act

Washington State Recreation and Conservation Office. Washington Invasive Species Council.
Partnership
Federal Government
International Government

Fisheries and Oceans Canada.
State and Local Government
Academic
Professional

Great Lakes Fishery Commission. Fisheries Management.

Tip of the Mitt Watershed Council (Michigan).