Scientific Name
Sus scrofa Linnaeus, 1758 (ITIS)
Common Name
Wild boar, wild hog, feral pig, feral hog, Old World swine, razorback, Eurasian wild boar, Russian wild boar
Date of U.S. Introduction
Means of Introduction
Imported as a food source and escaped from domestication or were intentionally released (Rouhe and Sytsma 2007)
Current U.S. Distribution
Feral swine have been reported in at least 35 states. Their population is estimated at over 6 million and is rapidly expanding. Range expansion over the last few decades is due to a variety of factors including their adaptability to a variety of climates and conditions, translocation by humans, and a lack of natural predators.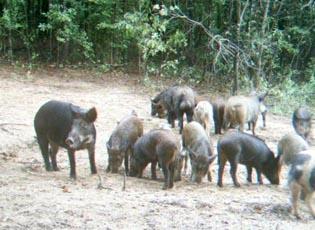 Distribution / Maps / Survey Status
Selected Resources
The section below contains highly relevant resources for this species, organized by source.
Council or Task Force

Apr 2020

Alberta Invasive Species Council (Canada).

See also: Fact Sheets for more information about individual invasive species, including those listed as "Prohibited Noxious" and "Noxious" under the Alberta Weed Control Act

Jun 2019

Invasive Species Council of British Columbia (Canada).

Washington State Recreation and Conservation Office. Washington Invasive Species Council.
Partnership
Federal Government

USDA. Animal and Plant Health Inspection Service.

Smithsonian Institution. Smithsonian Marine Station at Fort Pierce.
International Government
State and Local Government
Academic
Professional

2010

Noble Research Institute.

Publication NF-WF-10-01, 2nd Edition