Scientific Name
Linaria vulgaris Mill. (ITIS)
Common Name
Yellow toadflax, Butter and eggs, wild snapdragon, common toadflax, ramsted, flaxweed, Jacob's ladder
Date of U.S. Introduction
Means of Introduction
Introduced as an ornamental and medicinal plant (Zouhar 2003)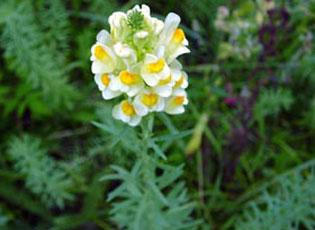 Spotlights
Oct 5, 2021

CAB International. Invasives Blog.

Native to Europe, Yellow toadflax and Dalmatian toadflax can typically be found on roadsides, grasslands and in crop fields. Like many other weeds, toadflaxes have been introduced to North America as decorative plants but they are now having adverse effects. Whilst these weeds may look pretty and provide decorative appeal, they soon escape cultivation and can cause some serious problems. As part of a new CABI Podcast series, CABI experts Dr Hariet Hinz and Dr Ivan Toševski were interviewed from CABI in Switzerland, who explained to us what measures they are taking to control the spread of toadflax.
Distribution / Maps / Survey Status
University of Georgia. Center for Invasive Species and Ecosystem Health.

Provides state, county, point and GIS data. Maps can be downloaded and shared.
Selected Resources
The section below contains highly relevant resources for this species, organized by source.
Council or Task Force

Jan 2014

Alberta Invasive Species Council (Canada).

See also: Fact Sheets for more information about individual invasive species, including those listed as "Prohibited Noxious" and "Noxious" under the Alberta Weed Control Act
Partnership

Mar 19, 2011

University of Alaska - Anchorage. Alaska Center for Conservation Science.

See also: Non-Native Plant Species List for additional factsheets (species biographies) and species risk assessment reports of non-native species present in Alaska and also non-native species currently not recorded in Alaska (potential invasives)

IUCN. Species Survival Commission. Invasive Species Specialist Group.

University of Georgia. Center for Invasive Species and Ecosystem Health.
Federal Government
State and Local Government
Academic
Professional

Colorado Weed Management Association.

Montana Weed Control Association.
Citations
Integrated Taxonomic Information System. Linaria vulgaris. [Accessed Sep 30, 2023].

Zouhar, K. 2003. Linaria spp. In: Fire Effects Information System. U.S. Department of Agriculture, Forest Service, Rocky Mountain Research Station, Fire Sciences Laboratory.