Scientific Name
Striga asiatica (L.) Kuntze (ITIS)
Common Name
Witchweed, Asiatic witchweed, red witchweed
Synonym
Striga lutea Lour. (ITIS)
Date of U.S. Introduction
Impact
Parasitic plant that attacks agricultural crops, including corn, sorghum, sugar cane, and rice (Nail et al. 2014)
Current U.S. Distribution
North Carolina, South Carolina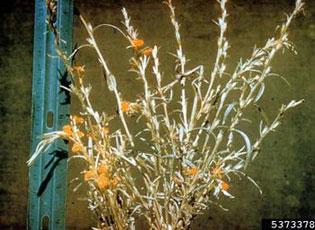 Spotlights
Aug 5, 2019

Boyce Thompson Institute. Alliance for Science.

Farmers who grow cereal crops in most African countries are all too familiar with the challenges presented by striga, a parasitic plant also known as witchweed that infests farmers' fields and causes lower yields, or even no harvest at all. Now African scientists are breeding maize that can resist this pest plant as extension agents are offering farmers various solutions for improving yields in areas where the invasive weed is especially prevalent.
Distribution / Maps / Survey Status
University of Georgia. Center for Invasive Species and Ecosystem Health.

Provides state, county, point and GIS data. Maps can be downloaded and shared.
Federally Regulated
U.S. Government Printing Office. Electronic Code of Federal Regulations.

USDA. APHIS. Plant Protection and Quarantine.

Includes species listed as a Federal Noxious Weed under the Plant Protection Act, which makes it illegal in the U.S. to import or transport between States without a permit.
Videos
Google. YouTube; Queensland Department of Agriculture and Fisheries (Australia). Biosecurity Queensland.
Selected Resources
The section below contains highly relevant resources for this species, organized by source.
Partnership
Federal Government

USDA. NRCS. National Plant Data Center.

USDA. ARS. National Genetic Resources Program. GRIN-Global.
International Government

New South Wales Department of Primary Industries (Australia).

Australian Government. Department of Agriculture and Water Resources. National Pest and Disease Outbreaks.

Business Queensland (Australia).
State and Local Government

California Department of Food and Agriculture.
Academic

2011

Virginia Polytechnic Institute and State University. Virginia Forest Landowner Education Program.

See also: Publications - Exotic Invasives for more fact sheets

Clemson University. Regulatory Services.