Scientific Name
Solanum viarum Dunal (ITIS)
Date of U.S. Introduction
Means of Introduction
Probably through contaminated seed or other agricultural products (Waggy 2009)
Impact
Crowds out native species and forage for livestock (Waggy 2009)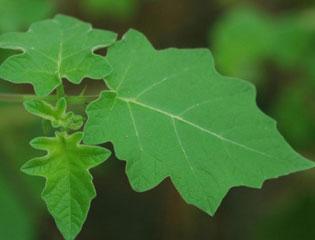 Distribution / Maps / Survey Status
University of Georgia. Center for Invasive Species and Ecosystem Health.

Provides state, county, point and GIS data. Maps can be downloaded and shared.

USDA. APHIS. Cooperative Agricultural Pest Survey. National Agricultural Pest Information System.
Federally Regulated
USDA. APHIS. Plant Protection and Quarantine.

Includes species listed as a Federal Noxious Weed under the Plant Protection Act, which makes it illegal in the U.S. to import or transport between States without a permit.
Selected Resources
The section below contains highly relevant resources for this species, organized by source.
Partnership
Federal Government

USDA. FS. Rocky Mountain Research Station. Fire Sciences Laboratory.

USDA. NRCS. National Plant Data Center.

USDA. ARS. National Genetic Resources Program. GRIN-Global.
International Government

New South Wales Department of Primary Industries (Australia).

Business Queensland (Australia).
State and Local Government

Alabama Forestry Commission.

Florida Department of Agriculture and Consumer Services. Division of Plant Industry.
Academic
Professional

2022

North American Invasive Species Management Association.
Citations
Integrated Taxonomic Information System. Solanum viarum. [Accessed Sep 26, 2023].

Waggy, M.A. 2009. Solanum viarum. In: Fire Effects Information System. U.S. Department of Agriculture, Forest Service, Rocky Mountain Research Station, Fire Sciences Laboratory.