Scientific Name
Ailanthus altissima (Mill.) Swingle (ITIS)
Common Name
Tree-of-heaven, China-sumac, varnishtree
Date of U.S. Introduction
Impact
Crowds out native species; damages pavement and building foundations in urban areas (Fryer 2010)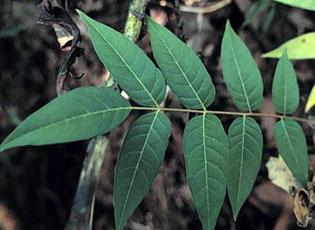 Spotlights
Jan 2023

USDA. FS. Northern Research Station. Rooted in Research.

Ailanthus altissima (tree-of-heaven) is a rapidly growing invasive tree species introduced to the United States nearly 200 years ago. Today, this species is a common invader in many forests across the nation. Scientists with the Northern Research Station have identified a unique biological control measure for managing Ailanthus—Verticillium nonalfalfae, a native soil-borne fungus. Check out this latest issue of Rooted in Research that explores how Verticillium can reduce Ailanthus populations.

Dec 1, 2021

USDA. Agricultural Research Service.

United States Department of Agriculture (USDA), Agricultural Research Service (ARS) scientists and collaborators confirmed the presence of a newly described Eriophyid mite, a potential biological control agent for the invasive tree-of-heaven, in France. The study, published in Phytoparasitica, showed that this was the first record of the mite species in the country, and the species could be a solution for managing tree-of-heaven infestations in Europe and the United States.
Distribution / Maps / Survey Status
University of Georgia. Center for Invasive Species and Ecosystem Health.

Provides state, county, point and GIS data. Maps can be downloaded and shared.
Videos
Google. YouTube; University Maryland. Home and Garden Information Center.
Selected Resources
The section below contains highly relevant resources for this species, organized by source.
Council or Task Force

Ohio Invasive Plants Council.

Southeast Exotic Pest Plant Council.
Partnership
Federal Government
International Government

Canadian Food Inspection Agency.

Brisbane City Council (Australia).
State and Local Government
Academic
Citations
Fryer, J.L. 2010. Ailanthus altissima. In: Fire Effects Information System. U.S. Department of Agriculture, Forest Service, Rocky Mountain Research Station, Fire Sciences Laboratory.

Integrated Taxonomic Information System. Ailanthus altissima. [Accessed Sep 26, 2023].