Scientific Name
Hypericum perforatum L. (ITIS)
Common Name
St. Johnswort, St. John's wort, common St. Johnswort, Klamath weed, common goatweed, tipton weed
Date of U.S. Introduction
Means of Introduction
Introduced as an ornamental and as a medicinal herb (Klein 2011)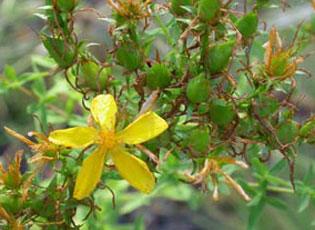 Distribution / Maps / Survey Status
University of Georgia. Center for Invasive Species and Ecosystem Health.

Provides state, county, point and GIS data. Maps can be downloaded and shared.
Selected Resources
The section below contains highly relevant resources for this species, organized by source.
Council or Task Force

Jan 2014

Alberta Invasive Species Council (Canada).

See also: Fact Sheets for more information about individual invasive species, including those listed as "Prohibited Noxious" and "Noxious" under the Alberta Weed Control Act
Partnership
Federal Government
International Government

New South Wales Department of Primary Industries (Australia).

Business Queensland (Australia).
State and Local Government
Academic

2017

Montana State University Extension.

2013

University of California. Weed Research and Information Center.

Ohio State University. Ohio Agricultural Research and Development Center.
Professional

Montana Weed Control Association.
Citations
Integrated Taxonomic Information System. Hypericum perforatum. [Accessed Sep 25, 2023].

Klein, H. 2011. Common St. Johnswort (PDF | 128 KB) University of Alaska Anchorage, Alaska Exotic Plants Information Clearinghouse.

Zouhar, K. 2004. Hypericum perforatum. In: Fire Effects Information System. U.S. Department of Agriculture, Forest Service, Rocky Mountain Research Station, Fire Sciences Laboratory.