Scientific Name
Onopordum acanthium L. (ITIS)
Common Name
Scotch thistle, cotton thistle, heraldic thistle, woolly thistle
Date of U.S. Introduction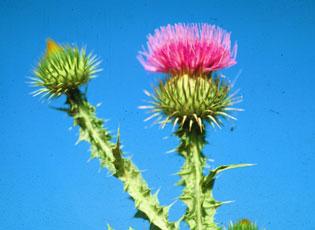 Distribution / Maps / Survey Status
University of Georgia. Center for Invasive Species and Ecosystem Health.

Provides state, county, point and GIS data. Maps can be downloaded and shared.
Videos
Google. YouTube; University of Arizona. Coconino County Cooperative Extension.
Selected Resources
The section below contains highly relevant resources for this species, organized by source.
Council or Task Force

Mar 2017

Invasive Species Council of British Columbia (Canada).

Washington State Recreation and Conservation Office. Washington Invasive Species Council.
Partnership
Federal Government

USDA. NRCS. National Plant Data Center.

USDA. ARS. National Genetic Resources Program. GRIN-Global.
International Government

New South Wales Department of Primary Industries (Australia).

Victoria Department of Jobs, Precincts and Regions (Australia). Agriculture.
State and Local Government

Washington State Noxious Weed Control Board.

California Department of Food and Agriculture.

Colorado Department of Agriculture. Conservation Services Division. Noxious Weed Program.
Academic

2013

University of California. Weed Research and Information Center.

Sep 2003

University of Idaho; Oregon State University; Washington State University. Pacific Northwest Extension.
Professional

Colorado Weed Management Association.
Citations
Briese, D.T., S. Bottcher, J. Vitou, and T. Thomann. 2003. Prevalence and impact of the crown fly, Botanophila spinosa, on its host thistle, Onopordum acanthium, in southern France. Acta Oecologica 24(2):77-86.

Integrated Taxonomic Information System. Onopordum acanthium. [Accessed Sep 22, 2023].

Schuster, M., and T.S. Prather. 2003. Scotch thistle Pacific Northwest Extension Publication PNW 569.