Common Name
Saltcedar, salt cedar, tamarisk
Date of U.S. Introduction
Impact
Lowers the water table and creates large deposits of salt in the soil (Di Tomaso 1998)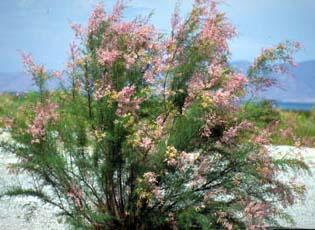 Distribution / Maps / Survey Status
University of Georgia. Center for Invasive Species and Ecosystem Health.

Provides state, county, point and GIS data. Maps can be downloaded and shared.

USDA. APHIS. Cooperative Agricultural Pest Survey. National Agricultural Pest Information System.
Selected Resources
The section below contains highly relevant resources for this species, organized by source.
Council or Task Force
Partnership
Federal Government
State and Local Government

Washington State Noxious Weed Control Board.

King County Department of Natural Resources (Washington). Water and Land Resources Division.

Colorado Department of Agriculture. Conservation Services Division. Noxious Weed Program.
Academic
Professional

Colorado Weed Management Association.

Montana Weed Control Association.