Scientific Name
Amaranthus palmeri S.Watson  (ITIS)
Common Name
Palmer amaranth, palmer pigweed, carelessweed
Date of U.S. Introduction
First reported outside of its native range in Virginia in 1915, but was not a significant weed in the Southeast until the 1990s (Ward et al. 2013); glyphosate-resistant varieties first appeared in 2004 (Culpepper et al. 2006)
Means of Introduction
Most likely through the transport of contaminated seed; some recent infestations in the Midwest were caused by contaminated Conservation Reserve Program seeding mixes (Ward et al. 2013; Murphy et al. 2017)
Impact
One of the most economically important weeds of corn, cotton, and soybean; some populations are resistant to glyphosate and other herbicides (Ward et al. 2013)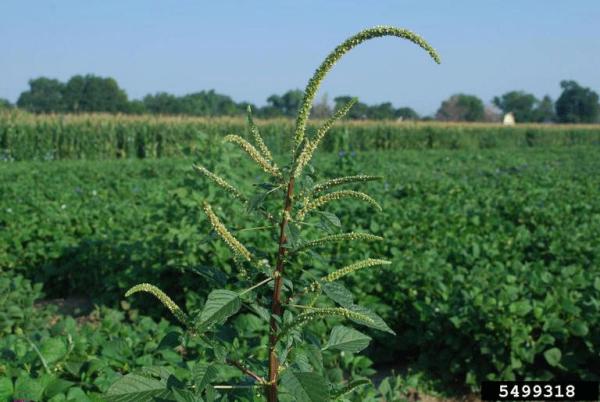 Distribution / Maps / Survey Status
University of Georgia. Center for Invasive Species and Ecosystem Health.

Provides state, county, point and GIS data. Maps can be downloaded and shared.
Videos
Google. YouTube; Penn State Extension. Pesticide Education Program; Pennsylvania Department of Agriculture.

Google. YouTube; USDA. Agricultural Research Service.
Selected Resources
The section below contains highly relevant resources for this species, organized by source.
Partnership
Federal Government
International Government

Aug 2018

Ontario Ministry of Agriculture, Food, and Rural Affairs (Canada).
State and Local Government

2019

Connecticut Agricultural Experiment Station.

In summer 2019, a population of Palmer amaranth was identified in pumpkin fields in East Windsor, Hartford. This is the first report of Palmer amaranth in Connecticut. See also: Insect Pest, Plant, and Miscellaneous Fact Sheets for more resources

Minnesota Department of Agriculture.
Academic