Common Name
Musk thistle, nodding thistle
Date of U.S. Introduction
Means of Introduction
Accidental, possibly through ballast water (Zouhar 2002)
Impact
Crowds out native species and forage for livestock (Zouhar 2002)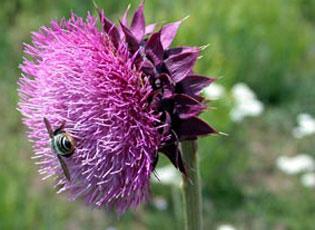 Distribution / Maps / Survey Status
University of Georgia. Center for Invasive Species and Ecosystem Health.

Provides state, county, point and GIS data. Maps can be downloaded and shared.
Selected Resources
The section below contains highly relevant resources for this species, organized by source.
Council or Task Force

Jan 2014

Alberta Invasive Species Council (Canada).

See also: Fact Sheets for more information about individual invasive species, including those listed as "Prohibited Noxious" and "Noxious" under the Alberta Weed Control Act

Southeast Exotic Pest Plant Council.
Partnership
Federal Government

USDA. FS. Rocky Mountain Research Station. Fire Sciences Laboratory.

USDA. NRCS. National Plant Data Center.

USDA. ARS. National Genetic Resources Program. GRIN-Global.
International Government

New South Wales Department of Primary Industries (Australia).

Tasmania Department of Natural Resources and Environment (Australia).
State and Local Government
Academic
Citations
Integrated Taxonomic Information System. Carduus nutans. [Accessed Mar 19, 2015].