Scientific Name
Rosa multiflora Thunb. (ITIS)
Common Name
Multiflora rose, baby rose, Japanese rose, seven-sisters rose, rambler rose, multiflowered rose
Date of U.S. Introduction
Means of Introduction
Cultivated as an ornamental, for erosion control, and as a living fence (Amrine 2002)
Impact
Forms dense thickets that invade pastures and crowd out native species (Munger 2002)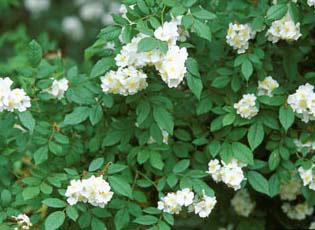 Distribution / Maps / Survey Status
University of Georgia. Center for Invasive Species and Ecosystem Health.

Provides state, county, point and GIS data. Maps can be downloaded and shared.
Videos
Google. YouTube; University of Massachusetts - Amherst. 
Selected Resources
The section below contains highly relevant resources for this species, organized by source.
Council or Task Force

Ohio Invasive Plants Council.

Southeast Exotic Pest Plant Council.
Partnership
Federal Government
State and Local Government
Academic
Citations
Amrine, J.W. 2002. Multiflora Rose. In: R. Van Driesche et al. (Eds.), Biological control of invasive plants in the eastern United States (FHTET-2002-04). Morgantown, West Virginia: U.S. Forest Service Forest Health Technology Enterprise Team.

Integrated Taxonomic Information System. Rosa multiflora. [Accessed Sep 19, 2023].

Munger, G.T. 2002. Rosa multiflora. In: Fire Effects Information System. U.S. Department of Agriculture, Forest Service, Rocky Mountain Research Station, Fire Sciences Laboratory.