Scientific Name
Persicaria perfoliata (L.) H. Gross (formerly known as Polygonum perfoliatum L.) (ITIS)
Common Name
Mile-a-minute weed or vine, Asiastic tearthumb
Date of U.S. Introduction
Means of Introduction
Introduced accidentally as a contaminant of nursery stock (Stone 2010)
Impact
Forms dense mats that crowd out native species (Stone 2010)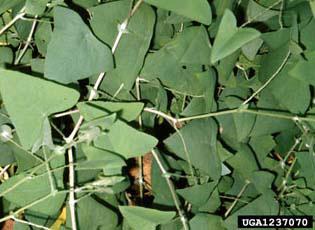 Spotlights
2020

Inadvertently introduced in the northeastern United States in the 1930s, mile-a-minute weed is a highly aggressive invasive plant that is replacing native species in many areas of the Nation. While a biocontrol agent has been identified, finding and reaching dense patches of mile-a-minute weeds has been a problem for land managers. The solution may be drones carrying environmentally friendly pods packed with tiny weevils.
Distribution / Maps / Survey Status
University of Georgia. Center for Invasive Species and Ecosystem Health.

Provides state, county, point and GIS data. Maps can be downloaded and shared.

USDA. APHIS. Cooperative Agricultural Pest Survey. National Agricultural Pest Information System.
Videos
Google. YouTube; University of Kentucky. Forestry and Natural Resources Extension.
Selected Resources
The section below contains highly relevant resources for this species, organized by source.
Partnership
Federal Government
State and Local Government
Academic