Scientific Name
Persicaria perfoliata (L.) H. Gross (formerly known as Polygonum perfoliatum L.) (ITIS)
Common Name
Mile-a-minute weed or vine, Asiastic tearthumb
Date of U.S. Introduction
Means of Introduction
Introduced accidentally as a contaminant of nursery stock (Stone 2010)
Impact
Forms dense mats that crowd out native species (Stone 2010)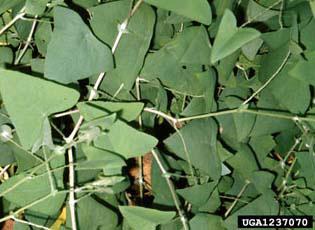 Spotlights
Aug 8, 2023

Maine Department of Agriculture, Conservation & Forestry.

The Maine Department of Agriculture Conservation and Forestry (DACF) has recently verified the first known occurrence of mile-a-minute weed (Persicaria perfoliata) in Maine. This fast-growing invasive vine, native to India, Asia, and the Philippine Islands, poses a significant threat to nurseries, Christmas tree farms, reforestation projects, and restoration areas, as it can smother young plants and trees under its dense growth.

Invasive species like mile-a-minute weed have the potential to cause severe harm to Maine's environment and economy. As part of our commitment to controlling and eradicating this invasive plant, the DACF urges the public to report any potential sightings promptly. If you encounter a vine resembling mile-a-minute weed, please visit the Maine Natural Areas webpage for identification information. If the plant matches the description, we encourage you to take photos, note the location, and report the finding via email to Invasives.MNAP@maine.gov or call (207) 287-7545.
Distribution / Maps / Survey Status
University of Georgia. Center for Invasive Species and Ecosystem Health.

Provides state, county, point and GIS data. Maps can be downloaded and shared.

USDA. APHIS. Cooperative Agricultural Pest Survey. National Agricultural Pest Information System.
Videos
Google. YouTube; University of Kentucky. Forestry and Natural Resources Extension.
Selected Resources
The section below contains highly relevant resources for this species, organized by source.
Partnership
Federal Government
State and Local Government
Academic
Citations
Integrated Taxonomic Information System. Persicaria perfoliata. [Accessed Sep 19, 2023].

Stone, K.R. 2010. Polygonum perfoliatum. In: Fire Effects Information System. U.S. Department of Agriculture, Forest Service, Rocky Mountain Research Station, Fire Sciences Laboratory.