Scientific Name
Taeniatherum caput-medusae (L.) Nevski (ITIS)
Common Name
Medusahead, medusa's head, medusahead rye, medusahead grass
Synonym
Elymus caput-medusae L.; Taeniatherum asperum(Simonkai) Nevski; Hordeum caput-medusae (L.) Crosson & Durand (ITIS)
Date of U.S. Introduction
Impact
Crowds out native species and forage for livestock (Archer 2001)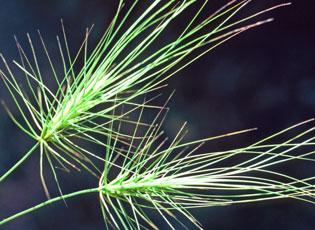 Spotlights
Dec 28, 2022

The arid and semiarid Great Basin of the western United States comprises parts of California, Nevada, Utah, Idaho, and Oregon and can variously be described by its hydrology, topography, or biology. Biologically, the area has been defined historically by the native sagebrush and shrubs that thrive in the dry valleys of the Sierra Nevada and Cascade Mountains. But, as a recent study undertaken by researchers at the University of Montana and the Department of Agriculture notes, these native plant communities are rapidly being colonized by nonnative annual grasses like cheatgrass (Bromus tectorum), red brome (B. rubens), and medusahead (Taeniatherum caput-medusae) to the detriment of wildlife and humans.
Distribution / Maps / Survey Status
University of Georgia. Center for Invasive Species and Ecosystem Health.

Provides state, county, point and GIS data. Maps can be downloaded and shared.
Selected Resources
The section below contains highly relevant resources for this species, organized by source.
Council or Task Force

Jan 2014

Alberta Invasive Plant Council (Canada).

See also: Fact Sheets for more information about individual invasive species, including those listed as "Prohibited Noxious" and "Noxious" under the Alberta Weed Control Act
Partnership

2015

Sage Grouse Initiative. Great Basin Factsheet Series.

University of Georgia. Center for Invasive Species and Ecosystem Health.
Federal Government
State and Local Government
Academic
Professional

Colorado Weed Management Association.
Citations
Archer, A.J. 2001. Taeniatherum caput-medusae. In: Fire Effects Information System. U.S. Department of Agriculture, Forest Service, Rocky Mountain Research Station, Fire Sciences Laboratory.

Integrated Taxonomic Information System. Taeniatherum caput-medusae. [Accessed Sep 19, 2023].

DiTomaso, J.M., G.B. Kyser, M.R. George, M.P. Doran, and E.A. Laca. 2008. Control of medusahead (Taeniatherum caput-medusae) using timely sheep grazing. Invasive Plant Science and Management 1(3):241-247.