Scientific Name
Pueraria montana var. lobata (Willd.) Maesen & S. M. Almeida ex Sanjappa & Predeep (ITIS)
Date of U.S. Introduction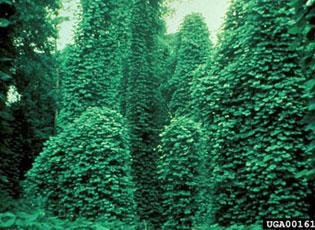 Distribution / Maps / Survey Status
University of Georgia. Center for Invasive Species and Ecosystem Health.

Provides state, county, point and GIS data. Maps can be downloaded and shared.
Videos
Google. YouTube; Oklahoma State University. SUNUP TV. 

Google. YouTube; United States Department of Agriculture.
Selected Resources
The section below contains highly relevant resources for this species, organized by source.
Council or Task Force

Washington State Recreation and Conservation Office. Washington Invasive Species Council.

Southeast Exotic Pest Plant Council.
Partnership
Federal Government

USDA. FS. Rocky Mountain Research Station. Fire Sciences Laboratory.

USDA. NRCS. National Plant Data Center.

USDA. ARS. National Genetic Resources Program. GRIN-Global.
International Government

Business Queensland (Australia).
State and Local Government
Academic