Scientific Name
Microstegium vimineum (Trin.) Camus (ITIS)
Common Name
Japanese stiltgrass, Nepalese browntop, Chinese packing grass, Asian stilt grass, annual jewgrass, bamboograss, Nepal microstegium, eulalia, Mary's grass
Synonym
Andropogon vimineus Trin., Eulalia viminea (Trin.) Kuntze (ITIS)
Date of U.S. Introduction
Means of Introduction
Probably introduced as packing material in shipments from China (Fryer 2011)
Impact
Can grow in a variety of habitats where it forms dense stands and crowds out native species (Fryer 2011)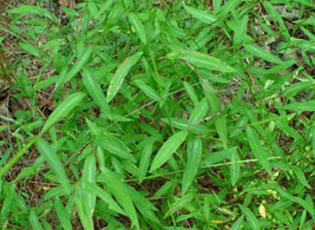 Spotlights
Mar 2019

Alabama Cooperative Extension System.

Japanese stiltgrass (Microstegium vimineum), also called Nepalese browntop, is an aggressive invader of forest lands throughout the eastern United States. Infestations can impact the diversity of native species, reduce wildlife habitat, and disrupt important ecosystem functions. Stiltgrass is considered one of the most damaging invasive plant species in the United States. Infestations spread rapidly and the seed can remain viable in the soil for up to five years. Correct identification is necessary before beginning any management activities. Fortunately, Japanese stiltgrass has a unique combination of characteristics that make field identification possible. This publication gives simple descriptions and clear pictures of these characteristics along with details on how to distinguish several common look-a-like species. Download the full PDF version of ANR-1457, the Field Guide to The Identification of Japanese Stiltgrass with Comparisons to other Look-a-like Species  [PDF,  16.1 MB].
Distribution / Maps / Survey Status
University of Georgia. Center for Invasive Species and Ecosystem Health.

Provides state, county, point and GIS data. Maps can be downloaded and shared.
Videos
Google. YouTube; University of Wisconsin-Madison. Wisconsin First Detector Network.
Selected Resources
The section below contains highly relevant resources for this species, organized by source.
Council or Task Force

Southeast Exotic Pest Plant Council.
Partnership
Federal Government
State and Local Government
Academic
Citations
Fryer, J.L. 2011. Microstegium vimineum. In: Fire Effects Information System. U.S. Department of Agriculture, Forest Service, Rocky Mountain Research Station, Fire Sciences Laboratory.

Integrated Taxonomic Information System. Microstegium vimineum. [Accessed Sep 18, 2023].

Morrison, J.A., Lubchansky, H.A., Mauck, K.E., McCartney, K., and B. Dunn. 2007. Ecological comparison of two co-invasive species in eastern deciduous forests: Alliaria petiolata and Microstegium vimineum. Journal of the Torrey Botanical Society 134(1):1-17.