Scientific Name
Fallopia japonica (Houtt.) Ronse Decr. (ITIS)
Common Name
Japanese knotweed, fleeceflower, Mexican bamboo, huzhang
Synonym
Polygonum cuspidatum Siebold & Zucc.; Reynoutria japonica Houtt.
Date of U.S. Introduction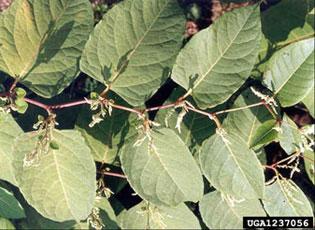 Spotlights
Nov 30, 2020

USDA. Animal and Plant Health Inspection Service.

The U.S. Department of Agriculture's Animal and Plant Health Inspection Service (APHIS) has issued the final environmental assessment (EA) for releasing Japanese knotweed psyllid (Aphalara itadori) to manage Japanese, giant, and bohemian knotweeds (Fallopia japonica, F. sachalinensis, and their hybrid, F. x bohemica). After careful analysis, APHIS has determined that releasing Japanese knotweed psyllid within the continental United States is not likely to have a significant impact on the environment. Based on this determination, APHIS will not prepare an environmental impact statement and will begin issuing permits for the release of Japanese knotweed psyllid.
Distribution / Maps / Survey Status
University of Georgia. Center for Invasive Species and Ecosystem Health.

Provides state, county, point and GIS data. Maps can be downloaded and shared.
Videos
Google. YouTube; Invasive Species Council of British Columbia (Canada).
Selected Resources
The section below contains highly relevant resources for this species, organized by source.
Council or Task Force

Ohio Invasive Plants Council.

Washington State Recreation and Conservation Office. Washington Invasive Species Council.

Southeast Exotic Pest Plant Council.
Partnership
Federal Government
International Government

Cornwall County Council (United Kingdom).
State and Local Government
Academic
Professional

2022

North American Invasive Species Management Association.