Scientific Name
Heracleum mantegazzianum Sommier & Levier (ITIS)
Common Name
Giant hogweed, cartwheel-flower
Date of U.S. Introduction
Impact
Produces toxic sap that can cause skin irritation and blindness (Gucker 2009)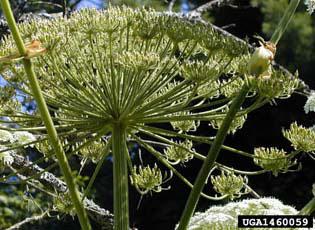 Spotlights
Jun 18, 2018

Virginia Tech researchers who helped identify the dangerous Giant Hogweed plants in Clarke County, Virginia, want residents to stay on the lookout for the plant with toxic sap that can cause severe burns — but also stressed that the weeds are believed to have been planted intentionally decades ago and haven't spread in the years since. Anyone who suspects they have found Giant Hogweed should take photos, check online to compare the plant to giant hogweed photos, and then contact a Virginia Cooperative Extension agent.
Distribution / Maps / Survey Status
University of Georgia. Center for Invasive Species and Ecosystem Health.

Provides state, county, point and GIS data. Maps can be downloaded and shared.

USDA. APHIS. Cooperative Agricultural Pest Survey. National Agricultural Pest Information System.
Federally Regulated
USDA. APHIS. Plant Protection and Quarantine.

Includes species listed as a Federal Noxious Weed under the Plant Protection Act, which makes it illegal in the U.S. to import or transport between States without a permit.
Videos
Google. YouTube; University of Maryland Extension. Home and Garden Information Center.
Selected Resources
The section below contains highly relevant resources for this species, organized by source.
Council or Task Force

Mar 2017

Invasive Species Council of British Columbia (Canada).

Jan 2014

Alberta Invasive Species Council (Canada).

See also: Fact Sheets for more information about individual invasive species, including those listed as "Prohibited Noxious" and "Noxious" under the Alberta Weed Control Act
Partnership
Federal Government
International Government
State and Local Government
Academic

Sep 2020

Virginia Tech; Virginia State University. Virginia Cooperative Extension.

2013

University of California. Weed Research and Information Center.

Jan 2008

Purdue University Extension. Weed Science.
Citations
Gucker, C.L. 2009. Heracleum mantegazzianum. In: Fire Effects Information System. U.S. Department of Agriculture, Forest Service, Rocky Mountain Research Station, Fire Sciences Laboratory.

Integrated Taxonomic Information System. Heracleum mantegazzianum. [Accessed Sep 16, 2023].