Common Name
Fig buttercup, lesser celandine
Date of U.S. Introduction
Current U.S. Distribution
Northeastern U.S. and Pacific Northwest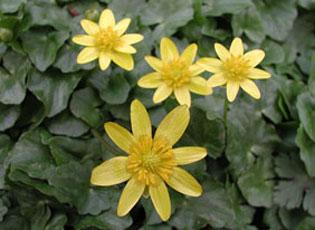 Distribution / Maps / Survey Status
University of Georgia. Center for Invasive Species and Ecosystem Health.

Provides state, county, point and GIS data. Maps can be downloaded and shared.
Selected Resources
The section below contains highly relevant resources for this species, organized by source.
Council or Task Force
Partnership
Federal Government

USDA. NRCS. National Plant Data Center.
State and Local Government
Academic
Citations
Axtell, A.E., A. DiTommaso, and A.R. Post. 2010. Lesser celandine (Ranunculus ficaria): a threat to woodland habitats in the northern United States and southern Canada. Invasive Plant Science and Management 3(2):199-196.

Emadzade, K., C. Lehnebach, P. Lockhart, and E. Hörandl. 2010. A molecular phylogeny, morphology and classification of genera of Ranunculeae (Ranunculaceae). Taxon 59(3):809-828.

Post, A.R., A. Krings, W.A. Wall, and J.C Neal. 2009. Introduced lesser celandine (Ranunculus ficaria, Ranunculaceae) and its putative subspecies in the United States: a morphometric analysis [PDF, 1.56 MB]. Journal of the Botanical Research Institute of Texas 3(1):193-209.