Scientific Name
Bromus tectorum L. (ITIS)
Common Name
Downy brome, bronco grass, downy chess, drooping brome, June grass, early chess, military chess, cheatgrass
Date of U.S. Introduction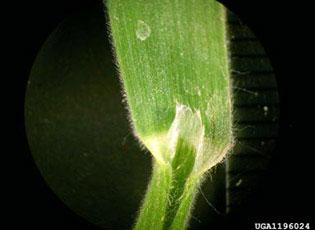 Spotlights
Aug 4, 2023

American Association for the Advancement of Science. Science.

Fire-friendly grasses have invaded new habitats around the world. Five species (cheatgrass, cogon grass, gamba grass, molasses grass, and buffelgrass) are considered among the most problematic grasses, threatening to transform entire ecosystems.

Dec 28, 2022

The arid and semiarid Great Basin of the western United States comprises parts of California, Nevada, Utah, Idaho, and Oregon and can variously be described by its hydrology, topography, or biology. Biologically, the area has been defined historically by the native sagebrush and shrubs that thrive in the dry valleys of the Sierra Nevada and Cascade Mountains. But, as a recent study undertaken by researchers at the University of Montana and the Department of Agriculture notes, these native plant communities are rapidly being colonized by nonnative annual grasses like cheatgrass (Bromus tectorum), red brome (B. rubens), and medusahead (Taeniatherum caput-medusae) to the detriment of wildlife and humans.

Oct 1, 2020

United States Department of Agriculture.

Cattle grazing on a nearly half mile wide targeted strip of cheatgrass near Beowawe, Nevada, created a firebreak that helped limit a rangeland fire to just 54 acres this past August compared to rangeland fires that more commonly race across thousands of acres of the Great Basin. This "targeted grazing" firebreak and eight others are part of an evaluation project being managed by the Agricultural Research Service (ARS), partnering with other federal, state and local agencies and local cattle ranchers in Idaho, Nevada and Oregon. These demonstration sites are being studied so the concept's efficacy and environmental impacts can be uniformly evaluated and compared.

Cheatgrass, also known as downy brome, is an invasive annual that dominates more than 100 million acres of the Great Basin in the western U.S. Germinating each winter, cheatgrass grows furiously in spring and dies in early summer, leaving the range carpeted in golden dry tinder. The Great Basin now has the nation's highest wildfire risk, and rangeland fires are outpacing forest fires when it comes to acreage destroyed.
Distribution / Maps / Survey Status
University of Georgia. Center for Invasive Species and Ecosystem Health.

Provides state, county, point and GIS data. Maps can be downloaded and shared.
Videos
Google. YouTube; Montana Department of Agriculture.

Google. YouTube; USDA. Agricultural Research Service.
Selected Resources
The section below contains highly relevant resources for this species, organized by source.
Council or Task Force

Jan 2014

Alberta Invasive Species Council (Canada).

See also: Fact Sheets for more information about individual invasive species, including those listed as "Prohibited Noxious" and "Noxious" under the Alberta Weed Control Act
Partnership
Federal Government
International Government

Saskatchewan Ministry of Agriculture (Canada).
State and Local Government

Pennsylvania Department of Conservation and Natural Resources.

See also: Invasive Plant Fact Sheets for plant species (trees, shrubs, vines, herbs and aquatic plants) that have impacted the state's natural lands

Colorado Department of Agriculture. Conservation Services Division. Noxious Weed Program.
Academic
Citations
Bartlett, E., S.J. Novak, and R.N. Mack. 2002. Genetic variation in Bromus tectorum (Poaceae): differentiation in the eastern United States. American Journal of Botany 89(4):602-612.

Colorado State Parks. 2005. Downy Brome (Cheatgrass) - Best Management Practices - Weed Profile [PDF, 214 KB].

Integrated Taxonomic Information System. Bromus tectorum. [Accessed Aug 27, 2023].

Mosely, J.C., S.C. Bunting, and M.E. Monoukian. 1999. Cheatgrass. In: R.L. Sheley and J.K. Petrof (Eds.), Biology and Management of Noxious Rangeland Weeds. Corvallis, OR: Oregon State University Press.