Scientific Name
Ligustrum sinense Lour. (ITIS)
Common Name
Chinese privet, small-leaf privet, Chinese ligustrum
Date of U.S. Introduction
Impact
Forms dense thickets that displace native species (Cuda et al.)
Current U.S. Distribution
Southern and Eastern U.S.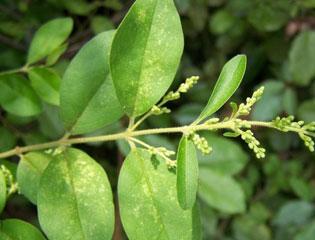 Spotlights
Apr 8, 2021

USDA. FS. Southern Research Station. CompassLive.

Chinese privet (Ligustrum sinense) is one of the worst invasive plants in the South. It dominates the shrub layer and often becomes the only shrub underneath trees, especially in streamside areas. But insects and spiders living in fallen leaves and leaf litter were not affected by a privet invasion in Georgia, as a recent study shows.
Distribution / Maps / Survey Status
University of Georgia. Center for Invasive Species and Ecosystem Health.

Provides state, county, point and GIS data. Maps can be downloaded and shared.
Videos
2020

Google. YouTube; Purdue University Extension (Indiana).

Google. YouTube; University of Florida. IFAS. Center for Aquatic and Invasive Plants.
Selected Resources
The section below contains highly relevant resources for this species, organized by source.
Council or Task Force

Southeast Exotic Pest Plant Council.
Partnership
Federal Government

USDA. FS. Rocky Mountain Research Station. Fire Sciences Laboratory.

USDA. NRCS. National Plant Data Center.

USDA. ARS. National Genetic Resources Program. GRIN-Global.
International Government

Oct 1999

Auckland Regional Council (New Zealand).

New South Wales Department of Primary Industries (Australia).
State and Local Government
Academic
Professional