Scientific Name
Elaeagnus umbellata Thunb. (ITIS)
Common Name
Autumn olive, Elaeagnus, Oleaster, Japanese silverberry
Date of U.S. Introduction
Means of Introduction
Introduced as an ornamental; cultivated for wildlife habitat and erosion control (Fordham et al. 2003)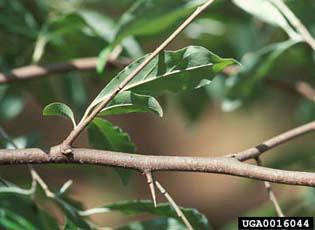 Spotlights
Jul 14, 2021

South Carolina will become only the second state in the United States to ban the nursery sale of Bradford pear trees and any other pear trees grown on the commonly used Pyrus calleryana rootstock. The ban on sales will begin Oct. 1, 2024, which is the annual nursery licensing renewal date in South Carolina. Ohio will become the first state on Jan. 1, 2023, after passing regulations banning the sale of the species in 2018 with a 5-year grandfathering period. Additional information about the ban's impact on homeowners can be found by visiting the Clemson University Home & Garden Information Center.

The additions of Pyrus calleryana — or Callery pear — along with three species of Elaeagnus to the State Plant Pest List met the approval of state agency representatives and the director of Clemson's Regulatory and Public Service Programs. The clock is now ticking on a grandfathering period of a little more than 3 years for the nursery industry to comply with the new regulations by ceasing sale of these plant species.
Distribution / Maps / Survey Status
University of Georgia. Center for Invasive Species and Ecosystem Health.

Provides state, county, point and GIS data. Maps can be downloaded and shared.
Selected Resources
The section below contains highly relevant resources for this species, organized by source.
Council or Task Force

Jan 2014

Alberta Invasive Species Council (Canada).

See also: Fact Sheets for more information about individual invasive species, including those listed as "Prohibited Noxious" and "Noxious" under the Alberta Weed Control Act

Ohio Invasive Plants Council.

Southeast Exotic Pest Plant Council.
Partnership
Federal Government

USDA. FS. Rocky Mountain Research Station. Fire Sciences Laboratory.

USDA. NRCS. National Plant Data Center.

USDA. ARS. National Genetic Resources Program. GRIN-Global.
State and Local Government
Academic

Nov 2011

University of Pennsylvania. The Pennsylvania Flora Project of Morris Arboretum.

Pennsylvania State University. Cooperative Extension.
Citations
Fordham, I.M, R.H. Zimmerman, B.L. Black, B.M. Clevidence, and E.R. Wiley. 2003. Autumn olive: a potential alternative crop In: J. Maas (Ed.), XXVI International Horticultural Congress: Berry Crop Breeding, Production and Utilization for a New Century (Acta Horticulturae No. 626, pp. 429-431). Leuven, Belgium: International Society for Horticultural Science.

Integrated Taxonomic Information System. Elaeagnus umbellata. [Accessed Aug 10, 2023].

Munger, G.T. 2003. Elaeagnus umbellata. In: Fire Effects Information System. U.S. Department of Agriculture, Forest Service, Rocky Mountain Research Station, Fire Sciences Laboratory.