Scientific Name
Fungus, formerly known as Geomyces destructans is now known as Pseudogymnoascus destructans, or Pd. (Minnis and Lindner 2013)
Common Name
White-Nose Syndrome (WNS)
Date of U.S. Introduction
First detected in Albany County, New York in 2007, but the earliest evidence of the disease is from February 2006 in Schoharie County, New York (Hoyt et al. 2021)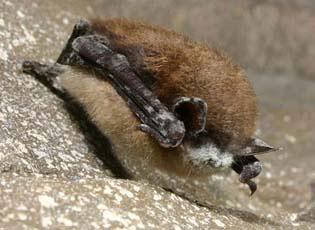 Distribution / Maps / Survey Status
Videos
2019

Google. YouTube; VICE News; HBO.

DOI. Fish and Wildlife Service.

Google. YouTube; Parks Canada.
Selected Resources
The section below contains highly relevant resources for this species, organized by source.
Council or Task Force

Washington State Recreation and Conservation Office. Washington Invasive Species Council.
Partnership

DOI. Fish and Wildlife Service.
Federal Government
International Government
State and Local Government
Academic

Apr 2021

University of Pennsylvania. School of Veterinary Medicine. Wildlife Futures Program.

Cornell University. Cornell Wildlife Health Lab.

Ohio State University. Extension.
Professional