Common Name
Sudden oak death (SOD), ramorum blight, ramorum dieback
Native To
Unknown; first discovered in the U.S. and Europe at approximately the same time (Scianna et al. 2003)
Date of U.S. Introduction
Impact
Potential loss of hardwood forest and increased potential of forest fire; impact to nursery and landscaping businesses (Scianna et al. 2003)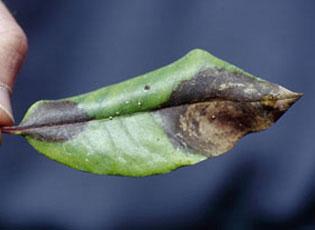 Spotlights
May 21, 2021

USDA. Animal and Plant Health Inspection Service.

Effective immediately, the Animal and Plant Health Inspection Service (APHIS) is expanding the Phytophthora ramorum (P. ramorum) quarantine area in Del Norte County, California. APHIS is taking this action in response to the confirmation of P. ramorum in the county on September 19, 2020. The California Department of Food and Agriculture has established an intrastate quarantine for the areas in Del Norte County that mirrors the federal regulatory requirements as specified in 7 CFR 301.92.

P. ramorum is the pathogen that causes sudden oak death, ramorum leaf blight, or ramorum dieback. Sudden oak death was first reported in 1995 on tan oak in Mill Valley, Marin County, California. Through ongoing surveys, APHIS continues to define the extent of the pathogen's distribution in the United States and uses quarantine areas and public outreach to limit its artificial spread beyond infected areas. Details on APHIS-designated P. ramorum quarantine and regulated areas and the conditions to move regulated articles are in 7 CFR 301.92 and at the APHIS website.

Nov 16, 2021

Potatoes and oak trees don't have a lot in common, but there is one thing, and it isn't good – a fungal-like plant pathogen in the genus Phytophthora. One of the many invasive pathogens contained in this genus, P. infestans, was responsible for the Irish potato famine. Since the mid-1990s, though, Phytophthora has been attacking forest trees along the West Coast, with the pathogen P. ramorum, also known as "sudden oak death" (SOD). SOD was first detected in the San Francisco Bay Area; it has since spread throughout California. In 2001, SOD was discovered in southwest Oregon where it infected tanoaks trees. The discovery led to the formation of an interagency team that included researchers from the Agricultural Research Service (ARS) and Oregon State University (OSU), to develop strategies to mitigate the impacts of SOD.
Distribution / Maps / Survey Status
USDA. FS. Northern Research Station.

The Alien Forest Pest Explorer (AFPE) is an interactive web tool which provides detailed spatial data describing pest distributions and host inventory estimates for damaging, non-indigenous forest insect and disease pathogens currently established in the U.S. Provides static maps displaying pest distributions (state and county) and a new interactive mapping tool (beta).

University of Georgia. Center for Invasive Species and Ecosystem Health.

Provides state, county, point and GIS data. Maps can be downloaded and shared.

California Oak Mortality Task Force.
Quarantine
California Department of Food and Agriculture. Plant Health Division. Pest Exclusion Branch.
Federally Regulated
U.S. Government Printing Office. Electronic Code of Federal Regulations.

USDA. Animal and Plant Health Inspection Service.

See what states have a federal quarantine for any of the targeted Hungry Pests, and identify which pests or diseases are at greatest risk due to a suitable habitat. In addition to federal quarantines, state-level quarantines might apply see State Summaries of Plant Protection Laws and Regulations (National Plant Board).

See also: The Threat for an overview of the top invasive pest threats; indicates places with Federal Quarantines in place.

USDA. APHIS. Plant Protection and Quarantine.

A Federal Order is a legal document issued in response to an emergency when the Administrator of APHIS considers it necessary to take regulatory action to protect agriculture or prevent the entry and establishment into the United States of a pest or disease. Federal Orders are effective immediately and contain the specific regulatory requirements.
Videos
Google. YouTube; University of California Cooperative Extension. Sonoma County.
Selected Resources
The section below contains highly relevant resources for this species, organized by source.
Council or Task Force
Partnership
Federal Government
International Government

Forestry Commission (United Kingdom). Forest Research.
State and Local Government
Academic