Scientific Name
Phakopsora pachyrhizi, Phakopsora meibomiae (CABI)
Date of U.S. Introduction
P. pachyrhizi was first discovered in Hawaii in 1994, and in the continental U.S. in 2004; P. meibomiae was discovered in Puerto Rico in 1976 (Bonde et al. 2006)
Means of Introduction
P. pachyrhizi is thought to have been carried by wind to the U.S. from South America during the 2004 hurricane season (Schnepf 2005)
Impact
Disease of soybean and other legumes; P. pachyrhizi can reduce soybean yields up to 80% (Schnepf 2005); P. meibomiae is less virulent but has a broader host range (CABI)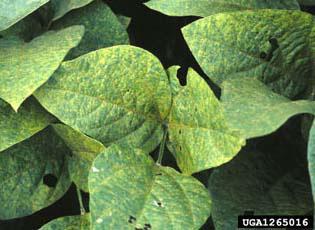 Distribution / Maps / Survey Status
USDA. Integrated Pest Management - Pest Information Platform for Extension and Education.

USDA. APHIS. Cooperative Agricultural Pest Survey. National Agricultural Pest Information System.
Selected Resources
The section below contains highly relevant resources for this species, organized by source.
Partnership
Federal Government

Jan 2005

Library of Congress. Congressional Research Service.

USDA. Economic Research Service.

Note: Webarchive; provides economic background information
International Government

Canadian Food Inspection Agency.
State and Local Government

Minnesota Department of Agriculture.

Florida Department of Agriculture and Consumer Services. Division of Plant Industry.
Academic
Professional

American Phytopathological Society. Plant Health Instructor.