Scientific Name
Ralstonia solanacearum race 3 biovar 2 (CABI)
Common Name
Southern bacterial wilt (SBW), potato brown rot
Synonym
Pseudomonas solanacearum (CABI)
Date of U.S. Introduction
Impact
Disease of geraniums and solanaceous crops (potatoes are particularly susceptible to this race of the disease) (Champoiseau et al. 2010)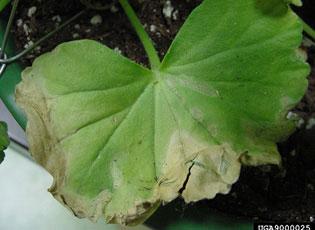 Spotlights
Nov 16, 2021

USDA. Animal and Plant Health Inspection Service.

The U.S. Department of Agriculture's Animal and Plant Health Inspection Service (APHIS) has deployed a new, high-tech tool to help protect U.S. nursery and specialty crop growers from a disease-causing microbe called Ralstonia solanacearum. APHIS' Plant Protection and Quarantine (PPQ) program is now using molecular diagnostics (MDx) at its plant inspection stations to rapidly detect R. solanacearum on imported geranium (Pelargonium) plant cuttings. PPQ developed this extra level of protection following the detection of R. solanacearum in April 2020, which triggered an emergency response in 44 states involving 650 nurseries. PPQ successfully eradicated R. solancearum from the United States just two months later.

Oct 8, 2020

The University of Guam received another round of funding in September under the U.S. Department of Agriculture Plant Protection Act for the surveying and monitoring of invasive pests of solanaceous crops that are on USDA's Priority Pest List for 2021. Solanaceae, or nightshades, are a family of flowering plants that include tomato, eggplant, and chili pepper. As part of the national effort this year, UOG was awarded $38,000 to survey and monitor for two pests: Tuta absoluta, which is a moth and type of leafminer capable of destroying an entire crop, and Ralstonia solanacearum race 3 biovar 2, which is a bacterium, known as a bacterial wilt, that infects through the roots and is deadly to plants.

The work through UOG better prepares the island to manage these invasive species if or when they arrive. "There are certain pathogens and insects that have a reputation of being really bad. These are two of them," said project lead Robert L. Schlub, a researcher and faculty member of UOG Cooperative Extension and Outreach with a doctorate in plant pathology. "They aren't on Guam, but if they show up, we want to know so we can help get them under control."

Jun 11, 2020

USDA. Animal and Plant Health Inspection Service.

The United States Department of Agriculture's Animal and Plant Health Inspection Service (APHIS) and its State partners have successfully completed actions to eliminate Ralstonia solanacearum race 3 biovar 2 from U.S. greenhouses. This announcement comes just two months after the pathogen was first detected in a Michigan greenhouse in April. In total, the response involved more than 650 facilities in 44 States. R. solanacearum race 3 biovar 2 can cause a wilt disease in several important agricultural crops such as potatoes, tomatoes, peppers and eggplant. This was the first confirmed case of this pathogen in U.S. greenhouses since 2004. APHIS continues to strengthen overseas safeguards, improve diagnostics, increase treatment options, and continually assess pathways to better protect American agriculture from this and other high-consequence plant pests and diseases.
Distribution / Maps / Survey Status
USDA. APHIS. Cooperative Agricultural Pest Survey. National Agricultural Pest Information System.
Selected Resources
The section below contains highly relevant resources for this species, organized by source.
Partnership
Federal Government

USDA. APHIS. Plant Protection and Quarantine.
International Government

Jan 2022

Department for Environment Food and Rural Affairs (United Kingdom).

Canadian Food Inspection Agency.
State and Local Government

Rhode Island Department of Environmental Management. Cooperative Agricultural Pest Survey.

Minnesota Department of Agriculture.
Academic
Citations
CABI. Invasive Species Compendium. Ralstonia solanacearum. CAB International. [Accessed Aug 10, 2023].

Champoiseau, P.G., J.B. Jones, T.M. Momol, P. Ji, C. Allen, D.J. Norman, C. Harmon, S.A. Miller, T. Schubert, D. Bell, J.P, Floyd, D. Kaplan, R. Bulluck, K. Smith, and K. Cardwell. 2010. Recovery Plan for Ralstonia solanacearum Race 3 Biovar 2: Causing Brown Rot of Potato, Bacterial Wilt of Tomato, and Southern Wilt of Geranium [PDF, 585 KB]. USDA Office of Pest Management Policy, National Plant Disease Recovery System.