Scientific Name
Bretziella fagacearum (Bretz) Z.W. deBeer, Marinc., T.A. Duong & M.J. Wingf., comb. nov. (de Beer et al. 2017)
Synonym
Formerly known as Ceratocystis fagacearum
Native To
Unknown; the disease is currently only found in the United States, but it may have originated in Mexico, Central America, or South America (Juzwik et al. 2008)
Date of U.S. Introduction
Impact
Fungal disease of oaks (Quercus spp.) that can rapidly kill susceptible species (particularly red oaks) (Koch et al. 2010)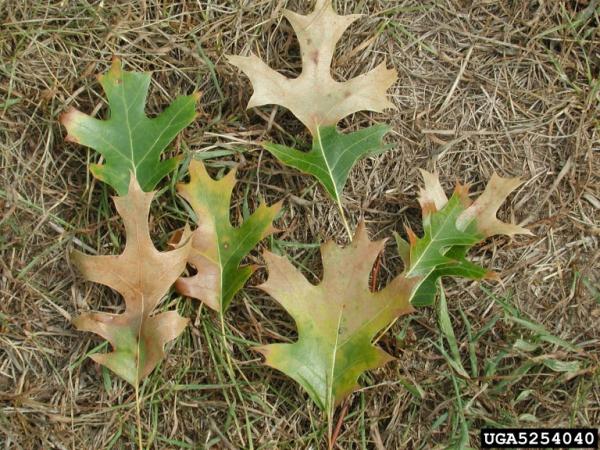 Spotlights
USDA. FS. Eastern Region.

Oak wilt is complex, with a high degree of variability in distribution, severity, and associated management options. This publication provides a detailed overview of oak wilt and is intended to help natural resource managers in the Northeast and Midwest choose the most appropriate tools for a given situation. Using the Story Map format, information has been organized into selectable sections/tabs for easy navigation and exploration.
Distribution / Maps / Survey Status
USDA. FS. Northern Research Station.

The Alien Forest Pest Explorer (AFPE) is an interactive web tool which provides detailed spatial data describing pest distributions and host inventory estimates for damaging, non-indigenous forest insect and disease pathogens currently established in the U.S. Provides static maps displaying pest distributions (state and county) and a new interactive mapping tool (beta).

USDA. APHIS. Cooperative Agricultural Pest Survey. National Agricultural Pest Information System.
Videos
Texas A&M University. Texas A&M Forest Service; USDA. FS. Forest Health Protection.

Google. YouTube; Wisconsin Department of Natural Resources.
Selected Resources
The section below contains highly relevant resources for this species, organized by source.
Council or Task Force

Michigan Oak Wilt Coalition.
Partnership
Federal Government

2000

USDA. FS. Southern Research Station.

USDA. FS. Northern Research Station.
International Government

Canadian Food Inspection Agency.

Forestry Commission (United Kingdom). Forest Research.
State and Local Government
Academic
Professional

Invasive Species Centre (Ontario).

Morton Arboretum (Illinois).
Citations
de Beer, Z. W., S. Marincowitz, T.A. Duong, and M.J. Wingfield. 2017. Bretziella, a new genus to accommodate the oak wilt fungus, Ceratocystis fagacearum (Microascales, Ascomycota). MycoKeys 27:1-19.

Juzwik, J., T.C. Harrington, W.L. MacDonald, and D.N. Appel. 2008. The origin of Ceratocystis fagacearum, the oak wilt fungus. Annual Review of Phytopathology 46:13-2.

Koch, K.A., G.L. Quiram, and R.C. Venette. 2010. A review of oak wilt management: A summary of treatment options and their efficacy Urban Forestry & Urban Greening 9:1-8.