Native To
Probably Asia (the disease vector, the redbay ambrosia beetle (Xyleborus glabratus), is native to Asia) (Harrington et al. 2008)
Date of U.S. Introduction
Redbay ambrosia beetle first discovered in 2002; disease first discovered in 2003 (Fraedrich et al. 2007)
Impact
Fungal disease of redbay (Persea borbonia) and other trees in the laurel family (Lauraceae) (Harrington et al. 2008)
Current U.S. Distribution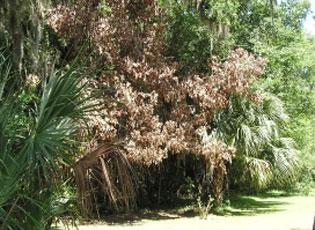 Spotlights
Jul 22, 2021

USDA. FS. Southern Research Station. CompassLive.

Since 2002, forests in the southeastern U.S. have struggled against a disease called laurel wilt. In 18 years, laurel wilt has spread to 11 southeastern states and killed hundreds of millions of trees. A review article by USDA Forest Service scientist Rabiu Olatinwo reflects on the origins and spread of laurel wilt throughout the last several years. Olatinwo, a research plant pathologist at the SRS, published this research with recently retired plant pathologist Stephen Fraedrich and research entomologist Bud Mayfield in the journal Forests.

Oct 2019

USDA. FS. Southern Region. State and Private Forestry.

Laurel wilt is a disease of woody plants in the laurel family (Lauraceae). Hundreds of millions of redbay (Persea borbonia) trees have been killed by laurel wilt in the southeastern Atlantic Coastal Plain region of the United States (US). The disease has also killed large numbers of sassafras (Sassafras albidum) trees in forests and landscapes, and avocado (Persea americana) trees in commercial production. As of October 2019, laurel wilt was known to occur from Texas to North Carolina, south through Florida and north to Kentucky. Laurel wilt is expected to continue spreading through sassafras in the eastern US, and is a potential threat to California bay laurel (Umbellularia californica) in the western US and to lauraceous species elsewhere in the world. See Region 8 - Forest & Grassland Health for more information.

Mar 2019

USDA. FS. Southern Research Station. CompassLive.

Laurel wilt has devastated plants in the Lauraceae family – redbay, sassafras, pondberry, avocado, and others – since it was first detected in the southeastern U.S. around 2002. There is no widespread, effective treatment for laurel wilt. Genetics research is focused on learning more about the pathogen's genetic structure in order to improve detection methods and screening for possible resistance in Lauraceae host species. "We have developed genetic markers to describe the population of the pathogen in the U.S.," says USDA Forest Service plant pathologist Tyler Dreaden. "Knowing which genotypes to use contributes to a quicker, more cost-effective resistance screening process." Dreaden led a new study to shed light on the genetic structure of the pathogen and its reproductive strategy. The research team included Marc Hughes at the University of Hawaii at Manoa, Randy Ploetz and Jason Smith at the University of Florida, and Adam Black, horticulture director of the Peckerwood Garden Conservation Foundation in Texas. Their findings were published in Forests.
Distribution / Maps / Survey Status
Videos
Google. YouTube; Florida Department of Agriculture and Consumer Service. Division of Plant Industry.
Selected Resources
The section below contains highly relevant resources for this species, organized by source.
Partnership
State and Local Government
Academic