Date of U.S. Introduction
Impact
Fungal disease of flowering dogwood (Cornus florida) and Pacific dogwood (Cornus nuttallii) trees (Daughtrey et al. 1996)
Current U.S. Distribution
Eastern U.S. and Pacific Northwest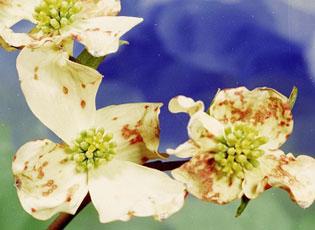 Distribution / Maps / Survey Status
USDA. FS. Northern Research Station.

The Alien Forest Pest Explorer (AFPE) is an interactive web tool which provides detailed spatial data describing pest distributions and host inventory estimates for damaging, non-indigenous forest insect and disease pathogens currently established in the U.S. Provides static maps displaying pest distributions (state and county) and a new interactive mapping tool (beta).

University of Georgia. Center for Invasive Species and Ecosystem Health.

Provides state, county, point and GIS data. Maps can be downloaded and shared.
Selected Resources
The section below contains highly relevant resources for this species, organized by source.
Partnership
Federal Government
International Government

2001

Natural Resources Canada. Canadian Forest Service.

Natural Resources Canada. Canadian Forest Service.
State and Local Government

Seattle Public Utilities (Washington). Green Gardening Program.
Academic
Citations
Caetano-Anolles, G., R.N. Trigiano, and M.T. Windham. 2001. Patterns of evolution in Discula fungi and the origin of dogwood anthracnose in North America, studied using arbitrarily amplified and ribosomal DNA. Current Genetics 39(5-6):346-354.

Daughtrey, M.L., C.R. Hibben, K.O. Britton, M.T. Windham, and S.C. Redlin. 1996. Dogwood anthracnose: understanding a disease new to North America. Plant Disease 80(4):349-358.

Redlin, S.C. 1991. Discula destructiva sp. nov., cause of dogwood anthracnose. Mycologia 83(5):633-642.