Date of U.S. Introduction
First discovered in 1977; was believed to have been eradicated but has reappeared several times (Bonde et al. 2015)
Means of Introduction
Potential of this organism to be transported with prohibited articles of chrysanthemum. (APHIS 2008)
Impact
Serious fungal disease of chrysanthemums that causes infected plants to be unmarketable, resulting in large economic losses (Wise et al. 2004)
Current U.S. Distribution
Not currently established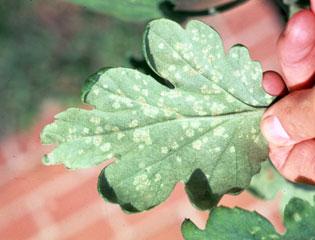 Federally Regulated
U.S. Government Printing Office. Electronic Code of Federal Regulations.
Selected Resources
The section below contains highly relevant resources for this species, organized by source.
Partnership

CABI. PlantwisePlus Knowledge Bank.
Federal Government

USDA. APHIS. Plant Protection and Quarantine.
State and Local Government

Apr 2016

Florida Department of Agriculture and Consumer Services. Division of Plant Industry.

Minnesota Department of Agriculture.
Academic

University of Massachusetts - Amherst. UMass Extension. Greenhouse Crops & Floriculture Program.

Oregon State University. Extension Service.