Scientific Name
Cryphonectria parasitica (Murrill) Barr (formerly known as Endothia parasitica) (ITIS)
Common Name
Chestnut blight, chestnut bark disease
Date of U.S. Introduction
Impact
Fungal disease of chestnut trees (Castanea spp.) that virtually eliminated mature American chestnuts (Castanea dentata) from the U.S. (Griffin 2000)
Current U.S. Distribution
Widespread throughout the U.S.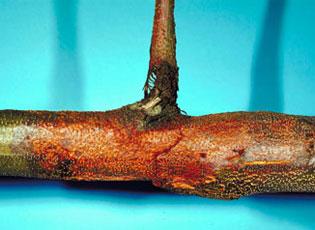 Spotlights
Nov 9, 2022

USDA. Animal and Plant Health Inspection Service.

The U.S. Department of Agriculture's (USDA) Animal and Plant Health Inspection Service (APHIS) is inviting public comment on two draft documents involving a petition from the State University of New York College of Environmental Science and Forestry (SUNY) seeking deregulation of an American chestnut variety modified for tolerance to chestnut blight. The first document is a draft Environmental Impact Statement (DEIS) that examines the potential environmental impacts, and the second is a draft Plant Pest Risk Assessment (DPPRA) that considers potential plants pest risks.

Beginning November 10, 2022, members of the public can submit comments through December 27, 2022, by going to www.regulations.gov and entering "APHIS-2020-0030" into the Search field.

Dec 1, 2020

USDA. FS. Southern Research Station. CompassLive.

The American chestnut (Castanea dentata) was an iconic tree that is now functionally extinct. For a hundred years, researchers from multiple organizations have been working to restore this tree. A free online course – An Introduction to the American Chestnut – is now available. The course covers chestnut taxonomy, silvics, historical importance, ecology, and its demise. A second course in development will cover American chestnut restoration and management.

Apr 29, 2019

Sometimes reaching a height of more than 100 feet tall with trunk diameters often well over 10 feet, the American chestnut was the giant of the eastern U.S. forests. There were once billions of them and their range stretched from Georgia and Alabama to Michigan, but the majestic tree was gone before forest science existed to document its role in the ecosystem. Notes left by early foresters including Gifford Pinchot, the founder and first chief of the USDA Forest Service, suggest that its ecological role was as impressive as the tree's size. Mature American chestnuts have been virtually extinct for decades. The tree's demise started with something called ink disease in the early 1800s, which steadily killed chestnut in the southern portion of its range. The final blow happened at the turn of the 20th century when a disease called chestnut blight swept through Eastern forests. But, after decades of work breeding trees, The American Chestnut Foundation, a partner in the Forest Service's effort to restore the tree, is close to being able to make a blight-resistant American chestnut available.
Distribution / Maps / Survey Status
USDA. FS. Northern Research Station.

The Alien Forest Pest Explorer (AFPE) is an interactive web tool which provides detailed spatial data describing pest distributions and host inventory estimates for damaging, non-indigenous forest insect and disease pathogens currently established in the U.S. Provides static maps displaying pest distributions (state and county) and a new interactive mapping tool (beta).
Videos
Dec 2019

Google. YouTube; CBS This Morning.
Selected Resources
The section below contains highly relevant resources for this species, organized by source.
Partnership
Federal Government

USDA. FS. Southern Research Station.

DOI. NPS. Great Smoky Mountains National Park.
International Government

Natural Resources Canada. Canadian Forest Service.

Forestry Commission (United Kingdom). Forest Research.
State and Local Government
Academic
Professional

Dec 2000

American Phytopathological Society.

Missouri Botanical Garden.