Scientific Name
Drosophila suzukii (Matsumura, 1931) (CABI)
Common Name
Spotted wing drosophila, cherry vinegar fly
Date of U.S. Introduction
Impact
Pest of unripe berries and stone fruits capable of causing significant economic losses (Asplen et al. 2015)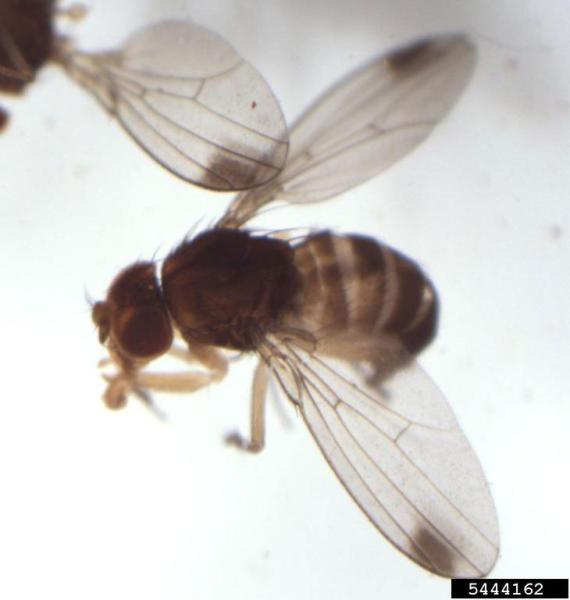 Spotlights
Jul 16, 2021

USDA. Animal and Plant Health Inspection Service.

APHIS has prepared an environmental assessment for permitting the release of the insect Ganaspis brasiliensis for the biological control of spotted-wing Drosophila (Drosophila suzukii) in the continental United States. Based on the environmental assessment (EA) and other relevant data, the agency has reached a preliminary determination that the release of this control agent within the continental United States will not have a significant impact on the environment. The proposed action is intended to reduce the severity of damage to small fruit crops from infestations of spotted-wing Drosophila (SWD) in the continental United States. SWD is native to East Asia and was first detected in the United States in California in 2008. It has since established in most fruit-growing regions in North America.

APHIS is making the environmental assessment available to the public for review and comment. All comments received on or before August 16, 2021 will be considered. To review the environmental assessment and make comments, go to www.regulations.gov.

Nov 2021

Washington State University. College of Agricultural, Human, and Natural Resource Sciences.

A parasitoid wasp that is the natural enemy of a fly known as the spotted-wing drosophila could be a good friend to growers. Washington State University researchers recently confirmed the discovery of the potentially beneficial wasp in the United States for the first time. The drosophila flies cause major damage to several Washington crops, especially sweet cherries and berries. The wasp, which lays its eggs in the flies, could be a means of controlling their spread.

Sep 23, 2021

Entomological Society of America. Entomology Today.

Spotted-wing drosophila (Drosophila suzukii), is an invasive fruit fly species that causes about $500 million in economic damage to fruit crops in the U.S. each year. A native to southeast Asia, it arrived in the U.S. in Hawaii in the 1980s and in the continental U.S. in California in 2008. It is now widespread through many parts of the U.S. and the world. In a new review article published last week in the Journal of Economic Entomology, Vaughn Walton, Ph.D., of Oregon State University and a multi-university team of experts have created a comprehensive look at how SWD management strategies are evolving to address these challenges.

The U.S. Department of Agriculture grant that funds part of Walton and colleagues SWD research stipulates that they work with industry influencers, and they have been doing this from the beginning. They bring technologies to industry and seek feedback on how well the technologies work in actual practice. "Federal funding is allowing us to listen to and serve our clients—the growers," Walton says. As the Journal of Economic Entomology paper details, many promising control strategies are being developed for this challenging and uniquely adaptable invasive species. With continued advances, researchers can hope that populations of SWD can be controlled and the damage they cause reduced.
Distribution / Maps / Survey Status
University of Georgia. Center for Invasive Species and Ecosystem Health.

Provides state, county, point and GIS data. Maps can be downloaded and shared.

University of Georgia. Center for Invasive Species and Ecosystem Health. Early Detection & Distribution Mapping System.

USDA. APHIS. Cooperative Agricultural Pest Survey. National Agricultural Pest Information System.
Selected Resources
The section below contains highly relevant resources for this species, organized by source.
Council or Task Force

Washington State Recreation and Conservation Office. Washington Invasive Species Council.
Partnership
Federal Government
International Government

New South Wales Department of Primary Industries (Australia).

British Columbia Ministry of Agriculture.
State and Local Government

Jul 2016

Oregon Department of Agriculture.

Aug 2009

Florida Department of Agriculture and Consumer Services. Division of Plant Industry.

Minnesota Department of Agriculture.
Academic