Scientific Name
Bemisia tabaci Gennadius biotype B (CABI)
Common Name
Silverleaf whitefly (SLWF), sweet potato whitefly biotype B
Synonym
Bemisia argentifolii Bellows & Perring (CABI)
Date of U.S. Introduction
Bemisia tabaci was first discovered in the U.S. in 1897; a new, more aggressive strain (biotype B) was discovered in 1986, which has been proposed to be classified as a separate species B. argentifolii (Hoddle et al. 2002; Perring 2001)
Impact
Damages crops by feeding on them and transmitting viruses (McAuslane 2015)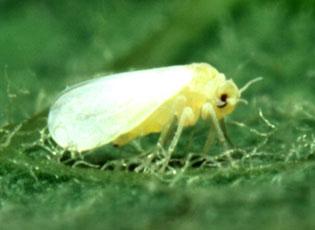 Distribution / Maps / Survey Status
USDA. APHIS. Cooperative Agricultural Pest Survey. National Agricultural Pest Information System.
Selected Resources
The section below contains highly relevant resources for this species, organized by source.
Partnership
International Government
State and Local Government

May 2016

Florida Department of Agriculture and Consumer Services. Division of Plant Industry.
Academic
Professional

Insecticide Resistance Action Committee.