Scientific Name
Globodera pallida Stone 1973 (CABI)
Common Name
Pale cyst nematode (PCN), white potato cyst nematode
Synonym
Formerly known as Heterodera pallida
Date of U.S. Introduction
Means of Introduction
Mainly through the movement of contaminated soil (APHIS 2015)
Impact
Major pest of potatoes and related crops; uncontrolled infestations can reduce yields by 80% (APHIS 2015)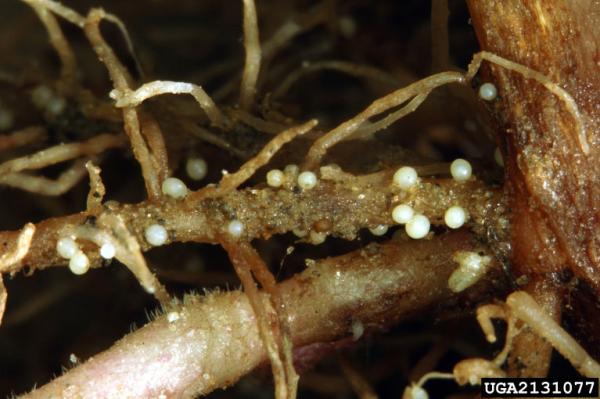 Spotlights
Feb 16, 2022

USDA. Animal and Plant Health Inspection Service.

APHIS' Plant Protection and Quarantine (PPQ) Pale Cyst Nematode (PCN) Eradication Program in Idaho has posted its 2021 fourth quarter report (October 1 – December 31, 2021). The report updates program activities and eradication progress and provides quarterly and aggregate regulatory, survey, and laboratory data.

 

Dec 29, 2020

USDA. Animal and Plant Health Inspection Service.

The U.S. Department of Agriculture's (USDA) Animal and Plant Health Inspection Service (APHIS) is updating domestic regulations for pale cyst nematode (PCN, Globodera pallida). The update will allow for a public comment period for future changes to program protocols for regulating and deregulating PCN-infested and associated areas. PCN is a microscopic soil-pest of potato crops, which causes significant yield losses if left uncontrolled. In North America, the nematode is known to be present in Idaho and on the island of Newfoundland, Canada.

APHIS regulates infested fields and fields that may have been exposed to PCN-infested soil, and accordingly restricts the interstate movement of potatoes and other regulated articles from these quarantined areas to prevent this pest's spread. With this update, APHIS is amending Title 7 of the Code of Federal Regulations § 301.86-3(c)(1) and (d) to state that if APHIS considers making a change to the regulation or deregulation protocols, the agency will publish a notice in the Federal Register to inform the public of the proposed change, and solicit public feedback. After reviewing public comments, APHIS will publish the final notice and inform the public of changes made to the protocols as well as the reasons behind them. Members of the public can view the final rule, supporting documents, and additional information here: https://www.regulations.gov/docket/APHIS-2018-0041. This action will go into effect on Jan. 28, 2021, 30 days after publication in the Federal Register.

GLOBAL: Globodera Alliance.

GLOBAL is a five-year $3.2 million project funded by USDA. The project title is "Risk assessment and eradication of Globodera spp. in U.S. production of potato", with research focused on the potato cyst nematodes Globodera pallida (pale cyst nematode), G. rostochiensis (golden nematode), and the related species G. ellingtonae that has recently been found in Oregon and Idaho. GLOBAL stands for "Globodera Alliance", a group of 17 research, extension, and education professionals, located in Idaho, Oregon, New York, Canada, Scotland, and France. GLOBAL members include faculty from the University of Idaho, Oregon State University, Cornell University, US Department of Agriculture (USDA), Agriculture and Agri-Food Canada, The James Hutton Institute, and the French National Institute for Agricultural Research.
Distribution / Maps / Survey Status
USDA. APHIS. Cooperative Agricultural Pest Survey. National Agricultural Pest Information System.
Quarantine
USDA. APHIS. Plant Protection and Quarantine.

Contains regulated fields maps, including location descriptions and basis for changes.
Federally Regulated
U.S. Government Printing Office. Electronic Code of Federal Regulations.

USDA. APHIS. Plant Protection and Quarantine.

USDA. APHIS. Plant Protection and Quarantine.
Videos
Google. YouTube; University of Idaho College of Agricultural and Life Sciences.
Selected Resources
The section below contains highly relevant resources for this species, organized by source.
Partnership
Federal Government

USDA. APHIS. Plant Protection and Quarantine.
International Government
State and Local Government

Minnesota Department of Agriculture.
Academic

University of Nebraska - Lincoln.