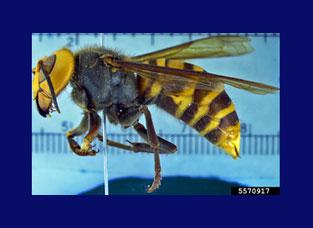 Distribution / Maps / Survey Status
Washington State Department of Agriculture.

The Northern Giant Hornet Public Dashboard shares detection and trapping data. Citizen scientists were able to view detections in real time, including the number of reported sightings and number of hornets confirmed by type. Coordinating this information provided input on future trapping and demonstrated the benefit of collaboration with citizen scientists. WSDA has indicated that citizen data sharing and bottle trapping efforts are crucial to protect Washington from this invasive species.
Videos
Google. YouTube; CBS Sunday Morning.

Google. YouTube; USDA. Agricultural Research Service.
Selected Resources
The section below contains highly relevant resources for this species, organized by source.
Council or Task Force

Oregon Invasive Species Council.

Washington State Recreation and Conservation Office. Washington Invasive Species Council.
Partnership
Federal Government

USDA. APHIS. Plant Protection and Quarantine.
International Government

Sep 2019

Government of British Columbia. Ministry of Agriculture.

Three Asian Hornets (Vespa mandarinia) were found in the Nanaimo area on Vancouver Island in mid-August. The identification has been confirmed by Canadian and international experts. This is the first time this insect has been found in British Columbia. Please report suspected Asian giant hornet sightings to the Invasive Species Council of British Columbia.

Ontario Ministry of Agriculture, Food and Rural Affairs (Canada).
State and Local Government
Academic
Professional

Invasive Species Centre (Ontario).
Citations
APHIS. 2020. New Pest Response Guidelines: Vespa mandarinia [PDF, 1.15 MB]. U.S. Department of Agriculture, Animal and Plant Health Inspection Service, Plant Protection and Quarantine.

Entomological Society of America. 2022. 'Northern Giant Hornet' Adopted as Common Name for Vespa mandarinia.

Perrard A., K.M. Pickett, C. Villemant, J. Kojima, and J. Carpenter. 2013. Phylogeny of hornets: a total evidence approach (Hymenoptera, Vespidae, Vespinae, Vespa). Journal of Hymenoptera Research 32:1-15.