Scientific Name
Anastrepha ludens (Loew, 1873) (ITIS)
Common Name
Mexican fruit fly, Mexfly
Synonym
Anastrepha lathana, Trypeta ludens (ITIS)
Date of U.S. Introduction
First observed as a winter migrant in southern Texas in 1903, with infestations occurring beginning in 1927; it was first discovered outside of its usual range in 1954 (Flitters and Messenger 1965)
Means of Introduction
Migrates into southern Texas from Mexico; may be introduced to other areas through the movement of infested fruit (Aluja 1994; Thomas 2004)
Impact
Larvae attack at least 60 varieties of fruit, particularly citrus and mangoes (Thomas 2004)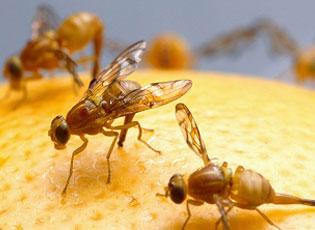 Spotlights
Jun 10, 2022

USDA. Animal and Plant Health Inspection Service.

The U.S. Department of Agriculture's Animal and Plant Health Inspection Service (APHIS) needs your help safeguarding Texas citrus from invasive citrus pests and diseases currently threatening livelihoods and agricultural production in the Lower Rio Grande Valley. APHIS employees in Cameron, Hidalgo, Willacy and Zapata counties are working with the Texas Department of Agriculture (TDA) to inspect and survey fruit trees in residential yards and commercial properties for signs of invasive fruit flies and citrus diseases, such as citrus canker and citrus greening. These pests and diseases, if allowed to become established or spread, could devastate grapefruit, sweet and sour orange, key lime, sweet lemon, and other types of fruit production in that area.

Aug 24, 2022

California Department of Food and Agriculture.

A portion of San Diego County has been placed under quarantine for the Mexican fruit fly following the detection of six flies and one larva in and around the unincorporated area of Valley Center. The United States Department of Agriculture (USDA), the San Diego County Agricultural Commissioner, and the California Department of Food and Agriculture (CDFA) are working collaboratively on this project.

The Mexican fruit fly can lay its eggs in and infest more than 50 types of fruits and vegetables, severely impacting California agricultural exports and backyard gardens alike. For more information on the pest, please see the pest profile at: www.cdfa.ca.gov/plant/go/MexFly. Residents who believe their fruits and vegetables may be infested with fruit fly larvae are encouraged to call the state's toll-free Pest Hotline at 1-800-491-1899.
Distribution / Maps / Survey Status
USDA. APHIS. Cooperative Agricultural Pest Survey. National Agricultural Pest Information System.
Federally Regulated
U.S. Government Printing Office. Electronic Code of Federal Regulations.

USDA. Animal and Plant Health Inspection Service.

Includes information for Mexican Fruit Fly, Mediterranean Fruit Fly, and Oriental Fruit Fly

USDA. Animal and Plant Health Inspection Service.

See what states have a federal quarantine for any of the targeted Hungry Pests, and identify which pests or diseases are at greatest risk due to a suitable habitat. In addition to federal quarantines, state-level quarantines might apply see State Summaries of Plant Protection Laws and Regulations (National Plant Board).

See also: The Threat for an overview of the top invasive pest threats; indicates places with Federal Quarantines in place.
Selected Resources
The section below contains highly relevant resources for this species, organized by source.
Partnership
Federal Government

USDA. Animal and Plant Health Inspection Service.

USDA. APHIS. Plant Protection and Quarantine.
State and Local Government

Florida Department of Agriculture and Consumer Services. Division of Plant Industry.

Contains fact sheets and other resources for Mediterranean fruit fly, Mexican fruit fly, and Oriental fruit fly

Texas Department of Agriculture.

California Department of Food and Agriculture. Plant Health Division. Pest Detection/Emergency Projects Branch.
Academic

University of Florida. Institute of Food and Agricultural Sciences Extension.

Electronic Data Information Source Publication #ENY201
Professional

Pest Fruit Flies of the World.

Version: Dec 8, 2006; using DELTA format (DEscription Language for TAxonomy) is a flexible method for encoding taxonomic descriptions for computer processing.