Scientific Name
Ceratitis capitata (Wiedemann, 1824) (ITIS)
Common Name
Mediterranean fruit fly, Medfly
Synonym
Ceratitis citriperda (MacLeay), Ceratitis hispanica (De Brême), Paradalaspis asparagi (Bezzi), Tephritis capitata (Wiedemann) (ITIS)
Date of U.S. Introduction
Means of Introduction
Usually through imported fruit and other crops infested with fruit fly larvae (Silva et al. 2003)
Impact
Attacks over 200 species of fruits and vegetables (APHIS 2003)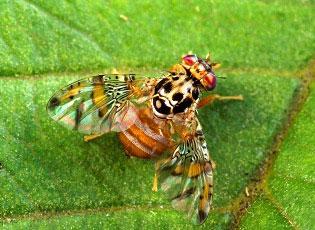 Spotlights
Jun 17, 2022

UN. Food and Agriculture Organization.

In the Mexican state of Colima, a recent outbreak of the Mediterranean fruit fly, also known as medfly, was very bad news. This voracious pest was eradicated in Mexico in the 1980s with the help of FAO and the International Atomic Energy Agency (IAEA), but insects know no borders. And unfortunately, with climate change, increase of trade and global travel favouring the spread of pests, they have once more found their way into this horticulturally important state, threatening to wreak havoc on the industry and on the livelihoods of farmers. Thankfully, Mexico, FAO and the IAEA had prepared for just a scenario.

May 16, 2022

USDA. Animal and Plant Health Inspection Service.

The Medfly is one of the world's most destructive pests, attacking over 200 fruits and vegetables. In June 1980, it was discovered in two highly populated urban areas in the Santa Clara Valley of northern California. APHIS and the California Department of Food and Agriculture (CDFA) began eradication activities within days. However, the overall eradication program lasted more than 27 months—and APHIS and CDFA needed to adjust and adapt their methods along the way to achieve success.
Distribution / Maps / Survey Status
USDA. APHIS. Cooperative Agricultural Pest Survey. National Agricultural Pest Information System.
Quarantine
Oct 23, 2023

California Department of Agriculture.

A portion of Los Angeles County has been placed under quarantine for the Mediterranean fruit fly following the detection of two wild flies in the Leimert Park neighborhood in the City of Los Angeles. The USDA, the Los Angeles County Agricultural Commissioner, and California Department of Agriculture are working collaboratively on this project.

Under International Plant Protection Convention (IPPC) standards, Ceratitis capitata  is a transient pest under eradication that is present only in one area in California.  This species is not widely distributed and is under official control in the U.S.
Videos
Google. YouTube; USDA. Animal and Plant Health Inspection Service.
Selected Resources
The section below contains highly relevant resources for this species, organized by source.
Partnership
Federal Government

USDA. Animal and Plant Health Inspection Service.

USDA. APHIS. Plant Protection and Quarantine.
International Government

Business Queensland (Australia).
State and Local Government

Florida Department of Agriculture and Consumer Services. Division of Plant Industry.

Contains fact sheets and other resources for Mediterranean fruit fly, Mexican fruit fly, and Oriental fruit fly

California Department of Food and Agriculture. Plant Health Division. Pest Detection/Emergency Projects Branch.
Academic

University of Hawaii. Tropical Agriculture and Human Resources. Integrated Pest Management Program.

University of Florida. Institute of Food and Agricultural Sciences Extension.

Electronic Data Information Source Publication #ENY214

Arizona State University. Agriculture and Life Sciences.
Professional

Pest Fruit Flies of the World.

Version: Dec 8, 2006; using DELTA format (DEscription Language for TAxonomy) is a flexible method for encoding taxonomic descriptions for computer processing.