Scientific Name
Ceratitis capitata (Wiedemann, 1824) (ITIS)
Common Name
Mediterranean fruit fly, Medfly
Synonym
Ceratitis citriperda (MacLeay), Ceratitis hispanica (De Brême), Paradalaspis asparagi (Bezzi), Tephritis capitata (Wiedemann) (ITIS)
Date of U.S. Introduction
Means of Introduction
Usually through imported fruit and other crops infested with fruit fly larvae (Silva et al. 2003)
Impact
Attacks over 200 species of fruits and vegetables (APHIS 2003)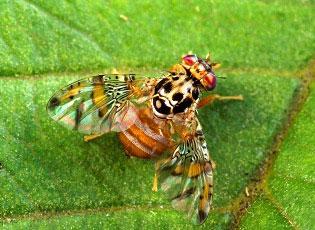 Spotlights
Dec 7, 2021

USDA. Animal and Plant Health Inspection Service.

Effective November 16, 2021, the Animal and Plant Health Inspection Service (APHIS) and the California Department of Food and Agriculture (CDFA) established a Mediterranean fruit fly (Medfly) quarantine area in San Bernardino and Los Angeles Counties, California. APHIS is applying safeguarding measures and restrictions on the interstate movement or entry into foreign trade of regulated articles from this area. This action is in response to the CDFA's confirmation of a mature, unmated female Medfly on October 25, and a subsequently confirmed male Medfly on November 9 from Jackson traps placed in backyard citrus trees in residential areas of Upland, California. There are 15.75 acres of commercial agricultural production in the quarantine area. Currently, the quarantine area encompasses 95 square miles.

Jan 5, 2021

USDA. Animal and Plant Health Inspection Service.

The U.S. Department of Agriculture (USDA) is allocating more than $70 million to support 383 projects under the Plant Protection Act's Section 7721 program to strengthen the nation's infrastructure for pest detection and surveillance, identification, threat mitigation, to safeguard the nursery production system and to respond to plant pest emergencies. Universities, states, federal agencies, nongovernmental organizations, nonprofits, and Tribal organizations will carry out selected projects in 49 states, the District of Columbia, Guam, and Puerto Rico.

The fiscal year 2021 project list includes 29 projects funded through the National Clean Plant Network (NCPN). The NCPN helps our country maintain the infrastructure necessary to ensure that pathogen-free, disease-free and pest-free certified planting materials for fruit trees, grapes, berries, citrus, hops, sweet potatoes, and roses are available to U.S. specialty crop producers. In FY 2021, funded projects include, among others:

Asian giant hornet research and eradication efforts: $944,116 in Washington and other states;
Exotic fruit fly survey and detection: $5,575,000 in Florida and California;
Agriculture detector dog teams: $4,287,097 to programs in California, Florida, and nationally to support detector dog teams;
Honey bee and pollinator health: $1,337,819 to protect honey bees, bumble bees and other important pollinators from harmful pests;
Phytophthora ramorum (sudden oak death pathogen) and related species: $513,497 in 14 states and nationally for survey, diagnostics, mitigation, probability modeling, genetic analysis, and outreach;

USDA will use $14 million to rapidly respond to invasive pest emergencies should a pest of high economic consequence be found in the United States. Learn more about the Plant Protection Act, Section 7721 on the USDA Animal and Plant Health Inspection Service (APHIS) website.
Distribution / Maps / Survey Status
USDA. APHIS. Cooperative Agricultural Pest Survey. National Agricultural Pest Information System.
Videos
Google. YouTube; USDA. Animal and Plant Health Inspection Service.
Selected Resources
The section below contains highly relevant resources for this species, organized by source.
Partnership
Federal Government

USDA. Animal and Plant Health Inspection Service.

USDA. APHIS. Plant Protection and Quarantine.
International Government

Business Queensland (Australia).
State and Local Government

Florida Department of Agriculture and Consumer Services. Division of Plant Industry.

Contains fact sheets and other resources for Mediterranean fruit fly, Mexican fruit fly, and Oriental fruit fly

California Department of Food and Agriculture. Plant Health Division. Pest Detection/Emergency Projects Branch.
Academic

University of Hawaii. Tropical Agriculture and Human Resources. Integrated Pest Management Program.

University of Florida. Institute of Food and Agricultural Sciences Extension.

Electronic Data Information Source Publication #ENY214

Arizona State University. Agriculture and Life Sciences.
Professional

Pest Fruit Flies of the World.

Version: Dec 8, 2006; using DELTA format (DEscription Language for TAxonomy) is a flexible method for encoding taxonomic descriptions for computer processing.