Common Name
Light brown apple moth (LBAM)
Date of U.S. Introduction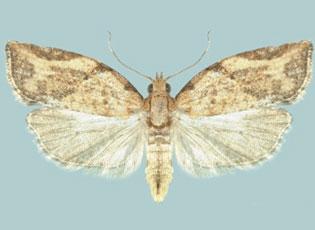 Distribution / Maps / Survey Status
USDA. APHIS. Cooperative Agricultural Pest Survey. National Agricultural Pest Information System.
Quarantine
California Department of Food and Agriculture. Plant Health and Pest Prevention Services.
Videos
Google. YouTube; San Diego County (California).
Selected Resources
The section below contains highly relevant resources for this species, organized by source.
Partnership
International Government

New South Wales Department of Primary Industries (Australia).
State and Local Government
Academic
Citations
Brown, J.W., M.E. Epstein, T.M. Gilligan, S.C. Passoa, and J.A. Powell. 2010. Biology, identification, and history of the light brown apple moth, Epiphyas postvittana (Walker) (Lepidoptera: Tortricidae: Archipini) in California: an example of the importance of local faunal surveys to document the establishment of exotic insects. American Entomologist 56(1):34-43.

Oregon Department of Agriculture. 2013. Oregon Insect Pest Alert: Light Brown Apple Moth [PDF, 2.2 MB].

Suckling, D.M., and E.G. Brockerhoff. 2010. Invasion biology, ecology, and management of the light brown apple moth (Tortricidae). Annual Review of Entomology 55:285-306.