Scientific Name
Popillia japonica Newman, 1841 (ITIS)
Date of U.S. Introduction
Impact
Destructive pest of turf, landscape plants, and crops; adults feed on the foliage and fruits of several hundred species of trees, shrubs, vines, and crops, while larvae feed on the roots of grasses and other plants (APHIS 2015)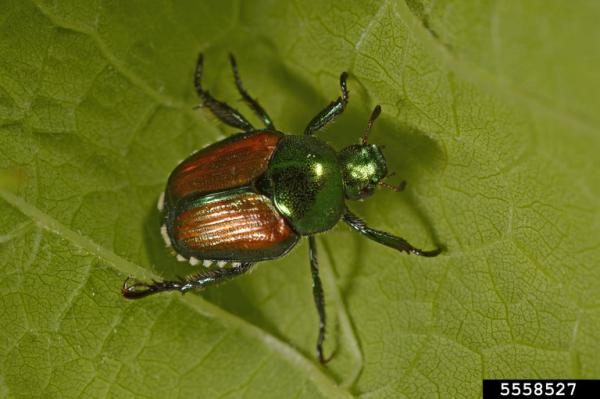 Spotlights
Jan 31, 2022

USDA. APHIS. Plant Protection Today.

They're coming to get you, spotted lanternflies and Japanese beetles! Detector canines—trained by USDA's Plant Protection and Quarantine (PPQ) program—are ready to sniff out these damaging invasive pests to detect them early and prevent their spread. These highly trained dogs represent some of the recent successes of our Agricultural Detector Canines strategic initiative. Its goal is to expand the use of detector dogs to enhance domestic pest surveys, detect pests early, and facilitate the trade of U.S. agricultural products.
See also: National Detector Dog Training Center

United States Department of Agriculture. USDA Climate Hubs.

The Japanese beetle (Popillia japonica Newman) is a highly destructive plant pest of foreign origin. It was first found in the United States in 1916 and has since spread to most states east of, and immediately to the west of, the Mississippi River. It has also spread to some western States, but tough regulations and careful monitoring have prevented its establishment elsewhere. The Japanese beetle has become a serious plant pest and a threat to American agriculture.

Scientists with USDA's ARS and APHIS have developed an integrated pest management (IPM) program that combines biological, cultural, and chemical strategies. In support of this plan, the Midwest Climate Hub Fellow, Dr. Erica Kistner-Thomas modeled how climate change may impact the distribution and voltinism (generations produced per year) of the Japanese beetle. Model projections indicate increases in temperature would enable northward range expansion across Canada while simultaneously shifting southern range limits in the United States northward. For more on Erica's work, see: The Potential Global Distribution and Voltinism of the Japanese Beetle (Coleoptera: Scarabaeidae) Under Current and Future Climates.

Washington State Department of Agriculture.

Washington State Department of Agriculture (WSDA) detected two Japanese beetles near Grandview and one near Sunnyside in 2021. Additionally, a resident reported numerous Japanese beetles devouring her roses in Grandview that summer.

Japanese beetles would pose a serious threat to farms, gardens, and the environment if they were to become established in Washington State. Please report any suspected sightings of Japanese beetle at PestProgram@agr.wa.gov or 1-800-443-6684. See WSDA's Interactive Japanese Beetle Response Map.
Distribution / Maps / Survey Status
Federally Regulated
U.S. Government Printing Office. Electronic Code of Federal Regulations.
Selected Resources
The section below contains highly relevant resources for this species, organized by source.
Council or Task Force

Invasive Species Council of British Columbia (Canada).
Partnership
Federal Government

USDA. APHIS. Plant Protection and Quarantine.
International Government

Canadian Food Inspection Agency.
State and Local Government
Academic
Professional

Missouri Botanical Garden.

Morton Arboretum (Illinois).