Common Name
Hemlock Woolly Adelgid (HWA)
Date of U.S. Introduction
Discovered on the West Coast in the 1920s, but it is disputed whether this was an introduced or native population; an introduced population was discovered on the East Coast in the 1950s (Havill et al. 2006; Orwig et al. 2003)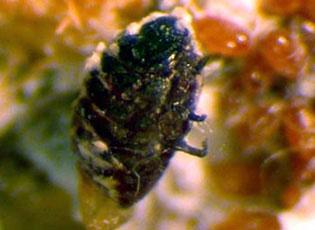 Spotlights
Feb 23, 2023

USDA. Agricultural Research Service.

Hemlocks in the U.S. are vulnerable to attack by a small insect called the hemlock woolly adelgid (HWA). This insect looks like tiny cotton balls on the needles of the tree and can kill the trees by feeding on the sap. The adelgid has decimated stands of hemlocks in the eastern U.S. While insecticides and biological control measures can offer some relief, the best way to combat HWA is to develop genetic resistance in the trees.

Sep 24, 2020

USDA. FS. Southern Research Station. CompassLive.

Forest Service scientists have published a guide synthesizing best practices for controlling these tiny bugs. It promotes a strategy of combining insecticide use with adelgid-eating insects.
Distribution / Maps / Survey Status
USDA. FS. Northern Research Station.

The Alien Forest Pest Explorer (AFPE) is an interactive web tool which provides detailed spatial data describing pest distributions and host inventory estimates for damaging, non-indigenous forest insect and disease pathogens currently established in the U.S. Provides static maps displaying pest distributions (state and county) and a new interactive mapping tool (beta).

University of Georgia. Center for Invasive Species and Ecosystem Health.

Provides state, county, point and GIS data. Maps can be downloaded and shared.

USDA. APHIS. Cooperative Agricultural Pest Survey. National Agricultural Pest Information System.
Quarantine
Vermont Department of Forests, Parks and Recreation. Forestry Division.
Videos
Google. YouTube; New York Department of Environmental Conservation.
Selected Resources
The section below contains highly relevant resources for this species, organized by source.
Partnership
Federal Government

USDA. FS. Northern Research Station.

DOI. National Park Service.
International Government

Canadian Food Inspection Agency.
State and Local Government
Academic