Common Name
Hemlock Woolly Adelgid (HWA)
Date of U.S. Introduction
Discovered on the West Coast in the 1920s, but it is disputed whether this was an introduced or native population; an introduced population was discovered on the East Coast in the 1950s (Havill et al. 2006; Orwig et al. 2003)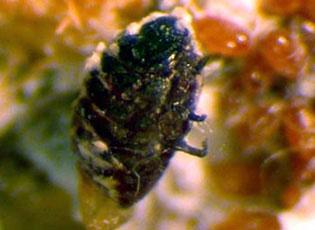 Spotlights
Sep 22, 2020

USDA. FS. Southern Research Station. CompassLive.

Laricobius nigrinus is a small beetle that eats an even smaller bug – the hemlock woolly adelgid, or HWA. Since 2003, Laricobius has been used to help control HWA. But the beetle, which is native to western North America, is only active during the fall, winter and early spring. Recently, USDA Forest Service research entomologist Bud Mayfield and his colleagues, including students and prominent researchers, published the results of a six-year collaboration on Laricobius as biocontrol.

Silvicultural recommendations for managing HWA are still in development. But when they are available, Mayfield and his colleagues plan to update their resource manager's guide. They wrote the guide for managers who want to use an integrated pest management strategy to control hemlock woolly adelgids.

Sep 24, 2020

USDA. FS. Southern Research Station. CompassLive.

Forest Service scientists have published a guide synthesizing best practices for controlling these tiny bugs. It promotes a strategy of combining insecticide use with adelgid-eating insects.
Distribution / Maps / Survey Status
Quarantine
Vermont Department of Forests, Parks and Recreation. Forestry Division.
Videos
Google. YouTube; New York Department of Environmental Conservation.
Selected Resources
The section below contains highly relevant resources for this species, organized by source.
Partnership
Federal Government

USDA. FS. Northern Research Station.

DOI. National Park Service.
International Government

Canadian Food Inspection Agency.
State and Local Government
Academic