Scientific Name
Homalodisca vitripennis (Germar) (Formerly known as Homalodisca coagulata) (Takiya et al. 2006)
Common Name
Glassy-winged sharpshooter (GWSS), xylophagous leafhopper
Date of U.S. Introduction
Means of Introduction
Probably arrived in California on nursery stock from the southeastern U.S. (Blua et al. 1999)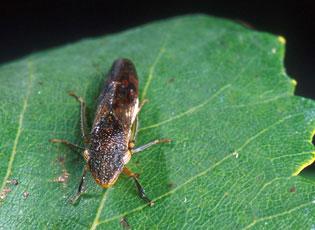 Spotlights
Jan 20, 2022

USDA. ARS. Down on the Farm.

In California's San Joaquin Valley, scientists from the Agricultural Research Service (ARS) have a sharpshooter, and the pathogen it spreads, in their crosshairs. ARS Scientists in California are devising strategies to combat pests that cause over $100 million in damage to the grape industry.
See also: Down on the Farm archives

Aug 19, 2019

Rodrigo Krugner, an entomologist with the Agricultural Research Service (ARS) in Parlier, California, has found an innovative way to control insect pests in California vineyards: tapping into the vibrational signals they use as mating calls.

Krugner's efforts have mainly focused on glassy-winged sharpshooters, which spread a bacterium that causes Pierce's disease in vineyards and costs the California grape industry an estimated $104 million a year. Growers use chemical sprays to control the pests, but insecticides also kill beneficial insects, leave residues, and become less effective as the insects develop resistance.
Distribution / Maps / Survey Status
USDA. APHIS. Cooperative Agricultural Pest Survey. National Agricultural Pest Information System.

California Department of Food and Agriculture. Pierce's Disease Control Program.
Videos
Google. YouTube; USDA. Agricultural Research Service.

Scientists with the USDA's Agricultural Research Service in central California are using sound to control insects that spread disease in grape vineyards.

Google. YouTube; University of California. Agriculture and Natural Resources.
Selected Resources
The section below contains highly relevant resources for this species, organized by source.
Council or Task Force
Partnership
International Government

Business Queensland (Australia).
State and Local Government

Jul 2004

Hawaii Department of Agriculture.

See also: New Pest Advisories for information on new pests and diseases that have become established in Hawaii.

California Department of Food and Agriculture.
Academic